The Kremlin Strike: A Novel (Brad McLanahan) (Large Print / Paperback)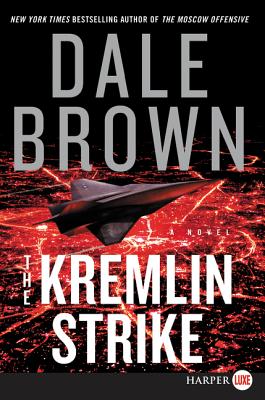 $28.99

Not Available In-Store - Usually Ships from Warehouse in 1-5 Days
Description
---
In this exciting, visionary, and all-too-plausible next chapter in the legendary Dale Brown's New York Times bestselling techno-warfare series, Brad McLanahan and the Iron Wolf Squadron must fight the Russians on a dangerous, untested battlefield: outer space.

The previous administration's ineffective response to the growing Russian threat has left America vulnerable. Setting a bold course for America's defense, the decisive and strong new president, John Dalton Farrell, intends to challenge Russian aggression head on. Brad and Patrick McLanahan and the formidable Iron Wolf Squadron—including the recently injured Nadia Rozek, rested and back to fighting form thanks to a pair of state-of-the-art prosthetic legs—are ready and eager to join the battle.
But even with their combined forces, the Russian menace may prove too great for the Americans to overcome. Done with provocative skirmishes and playing for small stakes, the Russian president has set his sights on the ultimate prize: controlling the entire world. Expanding beyond earth's bounds, the Russians have built a new high-tech space station and armed it with weaponry capable of destroying US satellites as well as powerful missiles pointed at strategic targets across earth.
Devising a cunning plan of attack, Brad, Nadia, and the Iron Wolf warriors will take to the skies in their advanced space planes to destroy the space station, check the Russians' plan for dominance, and save the world. But is it already too late?
About the Author
---
Dale Brown is the New York Times bestselling author of numerous books, from Flight of the Old Dog (1987) to, most recently, Eagle Station (2020). A former U.S. Air Force captain, he can often be found flying his own plane in the skies of the United States. He lives near Lake Tahoe, Nevada.

Praise For…
---
Praise for The Kremlin Strike: "Brown's look at the future of the military and potential conflicts with new technology and warfare continues to be engaging.… Fans who have grown fond of Patrick and his team will love this latest installment." — Booklist
"This action-packed techno-thriller is filled with enough complex aerospace and aeronautical jargon to sizzle the senses.... A well-researched and fast-paced story that provides all the requisite sparks to keep the pages turning." — Kirkus Reviews
"Spectacular… The action builds to an exciting climactic battle... Brown shows once again why he stands out in the crowded military thriller genre." — Publishers Weekly
"An off-the-books mercenary unit is the world's best bet against unchecked Russian aggression.… A fun read that really shines with the author's convincing knowledge of military aircraft." — Kirkus Reviews
"Dale Brown is a superb storyteller." — W.E.B. Griffin
"The combat scenes stand out… Brown reinforces his position at the top of the military action genre." — Publishers Weekly
"A very smart, timely, and terrifying political thriller… Current, spot-on, and full of bone-crushing action, Dale Brown's The Moscow Offensive is one of his best novels to date, and a sure bet to please action junkies who also like heaping sides of politics and next-gen tech." — TheRealBookSpy
"Strap in, for there are shootouts on every page plus a well-choreographed climactic raid. ... A compelling, fast-paced, and imaginative techno-thriller. ... There's so much action here it's a wonder there aren't bullet holes and bomb craters on every page." — Kirkus Reviews on Price of Duty
"Masterly. ... Explosive." — Publishers Weekly on Price of Duty
"Fans will find Brown in fine form here, and newcomers who enjoy top-notch military fiction will have no trouble diving into the deep end." — Booklist on Price of Duty
"All too real and eerily authentic. One of the godfathers of techno-thrillers, Brown has saved some of his best and most creative story ideas for [Price of Duty]." — TheREALBookSpy
"A tense, atmospheric thriller with a ripped from the headlines plot, PRICE OF DUTY moves at a breakneck pace. Highly readable, enormously entertaining, its twists and turns will keep you glued to the pages." — Karen Robards, New York Times Bestselling author
"A riveting powerhouse of a novel; action on top of action, fascinating and intricate details about the latest military technology and tactics and a forward-thinking geopolitical plot that yanks the reader along by the collar and takes them on a wild ride. Exciting and intelligent entertainment." — Mark Greaney, #1 Bestselling Author of Gunmetal Gray
"The best military adventure writer in the country today." — Clive Cussler