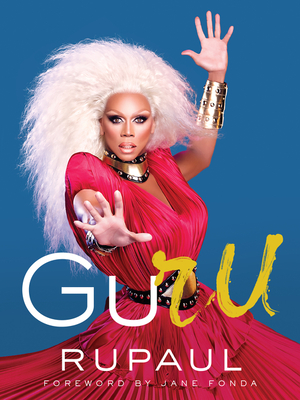 Description
---
FOREWORD BY JANE FONDA
A timeless collection of philosophies from renaissance performer and the world's most famous shape-shifter RuPaul, whose sage outlook has created an unprecedented career for more than thirty-five years. GuRu is packed with more than 80 beautiful photographs that illustrate the concept of building the life you want from the outside in and the inside out.
"You're born naked and the rest is drag."
As someone who has deconstructed life's hilarious facade, RuPaul has broken "the fourth wall" to expand on the concept of mind, body, and spirit. This unique perspective has allowed RuPaul to break the shackles of self-imposed limitations, but reader beware, this is a daily practice that requires diligence and touchstones to keep you walking in the sunshine of the spirit. Once you're willing to look beyond the identity that was given to you, a hidden world of possibilities will open its doors.
Throughout the history of humans on this planet, there've always been shaman, seers, and mediums who are able to interpret both high and low frequencies and remind humans to look beyond the surface for the truth of who we really are. And who we really are is an extension of the power that created the universe (aka: God in drag). FYI: most people are not willing to hear or accept that.
That is RuPaul's secret for success, not only in show business, but in all aspects of life, especially in navigating the emotional landmines that inhibit most sweet, sensitive souls.
If you think this book is just about "doing drag," you are sorely mistaken because for RuPaul, drag is merely a device to deactivate the identity-based ego and allow space for the unlimited.
About the Author
---
RuPaul Charles is a Tony Award® -winner and the 12-time Primetime Emmy Award® -winning executive producer of one of the world's largest television franchises, RuPaul's Drag Race. He holds the Guinness World Records title for most Emmy wins for Outstanding Host of Reality/Competition Program, and most Emmy awards of any Black artist in history.
A San Diego native, RuPaul became a popular fixture on the New York City nightclub scene and achieved international fame with the song "Supermodel (You Better Work)" from his 1993 debut album. He has written and recorded 18 studio albums to date.
RuPaul gained notoriety as a captivating and influential figure known for breaking down barriers and promoting self-expression and acceptance. In 1995, he became the first face of MAC Cosmetics, raising millions for the MAC AIDS Fund and becoming the first man to land a major cosmetics campaign. The next year, he landed a TV talk show on VH1. In 2017, RuPaul was named one of the TIME 100 list of the world's most influential people.
RuPaul has appeared in over 50 films and television shows both in and out of drag. As an author, he has published three books: GuRu (Harper Collins, 2018), Workin' It! RuPaul's Guide to Life, Liberty, and the Pursuit of Style (Harper Collins, 2010), and Lettin' It All Hang Out (Hyperion Books, 1995).
Praise For…
---
"GuRu, like its author, is empowering in its fierce beauty." — Booklist
"GuRu, does not disappoint...a 'must read' for fans of the world's most famous shape-shifter and those who need a little encouragement to live their best life." — Baltimore OUTloud