Anyone: A Novel (Hardcover)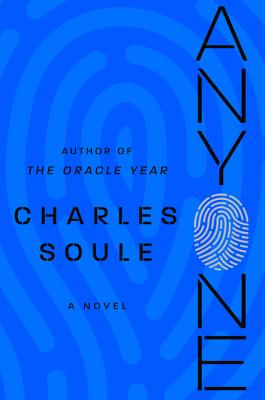 $21.99

Not Available In-Store - Usually Ships from Warehouse in 1-5 Days
Winter 2020 Reading Group Indie Next List
---
"Charles Soule's Anyone is a satisfying follow-up to The Oracle Year. Again, he takes a small technological change and uses it to explore the future course of humanity. Soule definitely leaves the reader with lots to think about when done with Anyone, and it'll be a great recommendation for thinky book clubs. An easy sell to anyone who comes in and asks, 'Hey, you know that movie Looper? I want something like that, but with more words.'"
— Mark Teppo, A Good Book, Sumner, WA
Description
---
Soon to be adapted for television by Carnival, creators of Downton Abbey
An Indie Next Pick • A Science Fiction Book Club Pick 
Bestselling author of The Oracle Year, Charles Soule brings his signature knowledge—and wariness—of technology to his new novel set in a realistic future about a brilliant female scientist who creates a technology that allows for the transfer of human consciousness between bodies, and the transformations this process wreaks upon the world.

Inside a barn in Ann Arbor, Michigan, a scientist searching for an Alzheimer's cure throws a switch—and finds herself mysteriously transported into her husband's body. What begins as a botched experiment will change her life—and the world—forever…
Over two decades later, all across the planet, "flash" technology allows individuals the ability to transfer their consciousness into other bodies for specified periods, paid, registered and legal. Society has been utterly transformed by the process, from travel to warfare to entertainment; "Be anyone with Anyone" the tagline of the company offering this ultimate out-of-body experience. But beyond the reach of the law and government regulators is a sordid black market called the darkshare, where desperate "vessels" anonymously rent out their bodies, no questions asked for any purpose - sex, drugs, crime... or worse.
Anyone masterfully interweaves the present-day story of the discovery and development of the flash with the gritty tale of one woman's crusade to put an end to the darkness it has brought to the world twenty-five years after its creation. Like Blade Runner crossed with Get Out, Charles Soule's thought-provoking work of speculative fiction takes us to a world where identity, morality, and technology collide.
About the Author
---
Charles Soule is a New York Times-bestselling, Brooklyn-based comic book writer, musician, and attorney. He is best known for writing Daredevil, She-Hulk, Death of Wolverine and various Star Wars comics from Marvel Comics, as well as his creator-owned series Curse Words from Image Comics and the award-winning political sci-fi epic Letter 44 from Oni Press.
Praise For…
---
"Fast-paced and suspenseful. Soule's uncomfortable vision of the future will please readers of cutting-edge speculative fiction. " — Publishers Weekly
"An imaginative, time-fragmented thriller about the bitter and potentially deadly consequences of body-snatching. Readers won't feel that they're on the edge of their seats as much as they're on a balance beam above a pit of lava while trying to solve a Rubik's Cube." — Kirkus Reviews
"With his second novel, Anyone, Charles Soule establishes himself as an author that readers of speculative fiction will love for years to come. The book will leave you thinking about gender, power, and what it means to be human for long after the final chapter." — Jennifer Wright, author of Get Well Soon: History's Worst Plagues and the Heroes That Fought Them
"Soule has wrapped a sharp, prescient investigation of the human mind inside a breakneck thriller that will have you riveted until the very last twist. Anyone is truly a book for everyone." — Peng Shepherd, author of The Book of M
"I spent much of my childhood inside DARPA, where my father was Deputy Director, and this book captures the imagination and double-edged sword of our greatest scientific leaps. The same technology that can cure the world's ills might also cause us to spiral into our own greed, selfishness, and vanity. Charles Soule's Anyone is a remarkable, consequential novel and a terrifying wake-up call." — Susan Henderson, author of The Flicker of Old Dreams
"A scientist's experiment gone wrong leads to a technology, called "flash," that changes the world. Charles Soule (The Oracle Year) gives this conventional sci-fi theme a rollicking 21st-century update in Anyone... . . Fans of N.K. Jemisin will devour this mind-bending novel." — Shelf Awareness
"Anyone is an intense, superbly crafted, edge of your seat thrill ride. I loved the two slowly converging storylines, not to mention the most dedicated, hardcore character I've read in a long, long time. Who would you be if you could be anyone?  I'd really like to be Charles Soule and have written this book."  — Sylvain Neuvel, author of Sleeping Giants
 "Explosive"  — Booklist