The Boys: A Memoir of Hollywood and Family (Hardcover)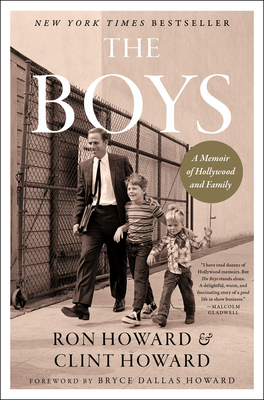 $28.99
Email or call for price.
Description
---
INSTANT NEW YORK TIMES BESTSELLER
"This extraordinary book is not only a chronicle of Ron's and Clint's early careers and their wild adventures, but also a primer on so many topics—how an actor prepares, how to survive as a kid working in Hollywood, and how to be the best parents in the world! The Boys will surprise every reader with its humanity."   — Tom Hanks
"I have read dozens of Hollywood memoirs. But The Boys stands alone. A delightful, warm and fascinating story of a good life in show business."   — Malcolm Gladwell
Happy Days, The Andy Griffith Show, Gentle Ben—these shows captivated millions of TV viewers in the '60s and '70s. Join award-winning filmmaker Ron Howard and audience-favorite actor Clint Howard as they frankly and fondly share their unusual family story of navigating and surviving life as sibling child actors.
"What was it like to grow up on TV?" Ron Howard has been asked this question throughout his adult life. in The Boys, he and his younger brother, Clint, examine their childhoods in detail for the first time. For Ron, playing Opie on The Andy Griffith Show and Richie Cunningham on Happy Days offered fame, joy, and opportunity—but also invited stress and bullying. For Clint, a fast start on such programs as Gentle Ben and Star Trek petered out in adolescence, with some tough consequences and lessons.
With the perspective of time and success—Ron as a filmmaker, producer, and Hollywood A-lister, Clint as a busy character actor—the Howard brothers delve deep into an upbringing that seemed normal to them yet was anything but. Their Midwestern parents, Rance and Jean, moved to California to pursue their own showbiz dreams. But it was their young sons who found steady employment as actors. Rance put aside his ego and ambition to become Ron and Clint's teacher, sage, and moral compass. Jean became their loving protector—sometimes over-protector—from the snares and traps of Hollywood.
By turns confessional, nostalgic, heartwarming, and harrowing, THE BOYS is a dual narrative that lifts the lid on the Howard brothers' closely held lives. It's the journey of a tight four-person family unit that held fast in an unforgiving business and of two brothers who survived "child-actor syndrome" to become fulfilled adults.
About the Author
---
Academy Award-winning filmmaker Ron Howard is one of his generation's most popular directors. From the critically acclaimed dramas A Beautiful Mind, Frost/Nixon, Rush, and Apollo 13 to the hit comedies Parenthood and Splash, he has created some of Hollywood's most memorable films. Howard made his directorial debut in 1977 with Grand Theft Auto. He began his career in film as an actor, performing in The Journey when he was four years old. He also starred in The Music Man, the long-running television series The Andy Griffith Show and Happy Days, and in the film American Graffiti. His most recent films as a director are Hillbilly Elegy and the upcoming Thirteen Lives.
Clint Howard is a character actor and the younger brother of filmmaker Ron Howard. He began his acting career at the age of three when he played the role of Leon on The Andy Griffith Show. He starred opposite the titular bear in the popular late-'60s CBS television series Gentle Ben, and has gone on to act in countless TV shows and films over the years. Among his credits are Star Trek in virtually all of its incarnations, Apollo 13, Seinfeld, Rock 'n' Roll High School, Arrested Development, The Waterboy, and many horror films.
Praise For…
---
"A Tinseltown childhood free of malice, regret or self-pity. It's like a Ron Howard movie between two covers… a picture of a family unencumbered by major neuroses, hang-ups or rivalries… links to an earlier, simpler age… refreshing [and] homespun." — Wall Street Journal
"…kind, imperturbable and appreciative… the lulling rhythms of harmonious boomer sibs clearing out the old family house. See, they seem to say, brotherly love is possible in Hollywood." — New York Times
"[A] nostalgic coming-of-age story that examines life in showbiz, fun adventures and, perhaps above all, the importance of family." — CNN.com
"Who would have thought Ron Howard could be exciting? And yet, he and his brother Clint have written a saga of talent, ambition, serendipity, and lust. Well, forget about the lust. It's just not there. But Ron and Clint's story of their remarkable coming-of-age in show business will thrill any reader."  — Steve Martin
"I've known and loved the Howard family for forty-eight years, and there are stories here that surprised even me. The Boys is an emotional journey that goes well beyond your typical Hollywood memoir." — Henry Winkler
"I have read dozens of Hollywood memoirs. But The Boys stands alone. A delightful, warm and fascinating story of a good life in show business." — Malcolm Gladwell
"This extraordinary book is not only a chronicle of Ron's and Clint's early careers and their wild adventures, but also a primer on so many topics—how an actor prepares, how to survive as a kid working in Hollywood, and how to be the best parents in the world! THE BOYS will surprise every reader with its humanity." — Tom Hanks
"How can the complexities of husband and wives, parents and children, brother to brother be contained between the pages of one book? It's impossible and yet The Boys touched me in such a way that the Howards' story---Rance, Jean, Ron and Clint—will continue, for a long time, to settle on my heart like soft rain. It is about life and show business and how one, famous family connected both--with passion, loyalty, respect and, most of all, love."  — Glenn Close
"Actors and brothers Ron and Clint Howard reflect on growing up in Hollywood in this fascinating dual autobiography… Candid, humorous, and entertaining, this intimate account will be a hit with the brothers' fans."  — Publishers Weekly
"Filled with delightful stories from the sets of The Andy Griffith Show, Gentle Ben, The Music Man, and Happy Days, this memoir will be treasured by television and movie history buffs alike; fans of the Howards will greatly enjoy their teasing, loving banter, and evocation of a gentler era." — Library Journal (starred review)
"It's wholesome, earnest and contains just enough tidbits about Mayberry and "Happy Days" to satisfy ardent fans… In the end, it's the remarkable story of a family that chose a very public line of work but managed to live by their own private values in an America that gave them the space to do just that." — Associated Press
"A treat for movie and TV buffs, this dual memoir is wholesome and satisfying…Fans of the Howards will revel in the details of their young ascents into the Hollywood spotlight." — Kirkus Reviews