Any Given Tuesday: A Political Love Story (Hardcover)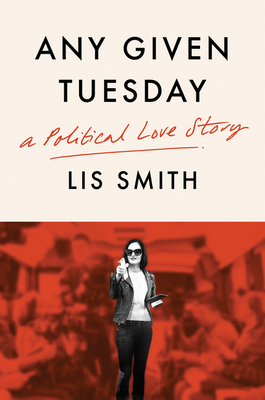 $27.99

Not Available In-Store - Usually Ships from Warehouse in 1-5 Days
Description
---
New York Times Bestseller
An irreverent look behind the scenes of American politics from one of the most sought-after operatives in the Democratic Party
Lis Smith isn't your average political strategist and Any Given Tuesday isn't your typical political memoir. At once a revealing look at human nature at the highest levels of power and an intimate portrayal of a sometimes rocky personal journey, it breaks all the rules. Smith doesn't pretend to be perfect—she owns the controversial choices that landed her in the tabloids, as well as the unorthodox ones that have paid off and defined her successful career.
 Any Given Tuesday follows Smith from her earliest experiences as a college-aged intern to her days as a trusted adviser and confidante to some of the most high-profile politicians in the country—including her star turn as senior adviser on Pete Buttigieg's 2020 presidential campaign. Animated by Smith's love for the hand-to-hand combat of politics and sustained by her deeply-held belief that it's still possible to effect positive change, it's an odyssey full of highs and lows and larger-than-life characters. Throughout, Smith shows what it's really like behind the curtain: what happens when the lights go down and the cameras turn off, how it feels to be in the eye of the political media storm, and how the people responsible for heady, life and death decisions are as flawed as the rest of us.
While the journey hasn't always been smooth, Lis Smith has seen and learned a lot—and she shares it all in this eye-opening, entertaining memoir.
About the Author
---
Lis Smith is a veteran of twenty political campaigns. She has extensive experience in public affairs and media relations at the local, state and national levels. She most recently worked as a senior advisor in communications to presidential candidate Pete Buttigieg. Prior to working on Buttigieg's campaign, she'd worked for everyone from former President Barack Obama to Senator Claire McCaskill and Governors Andrew Cuomo, Terry McAuliffe, Ted Strickland, Jon Corzine and Martin O'Malley. She's served as an on-air commentator for major TV networks and has had opinion pieces published in the New York Times and Vanity Fair. She lives in New York.
Praise For…
---
"Stylish and acerbic." — CNN.com
"Smith's Any Given Tuesday may just rewrite the template for what a political memoir can be." — Time
"Would-be political staffers will find valuable pointers." — Kirkus Reviews
"Lis Smith has given us a uniquely honest and personal glimpse into the realities of American politics, reminding us once again why she stands among that arena's best and brightest. Any Given Tuesday is more than a memoir. It's a reminder of who we are and who we can be." — Bakari Sellers, member of the South Carolina House of Representatives and CNN political commentator
"A fearless strategist with a heart for the underdog candidate, Lis Smith has made her mark at every level of Democratic politics, from local to presidential. She holds nothing back in this page-turner. Her uproarious memoir is an insider's how-to of twenty-first-century campaigning." — Karen Tumulty, deputy editorial page editor and columnist for the Washington Post
"Lis Smith is a brilliant, fearless, bare-knuckle political warrior and, it turns out, a hell of a storyteller, too!" — David Axelrod, director of the University of Chicago's Institute of Politics and former chief strategist and senior adviser to President Barack Obama
"Breezy and informative. . . . Lis Smith delivers 300 pages of smack, snark and vulnerability." — The Guardian