Once Upon a Time in Hollywood: The Deluxe Hardcover: A Novel (Hardcover)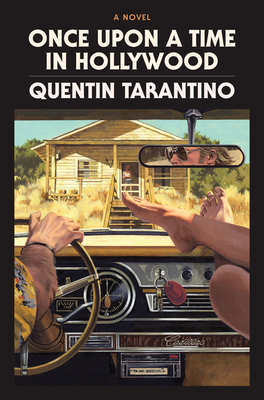 $30.00

Not Available In-Store - Usually Ships from Warehouse in 1-5 Days
Description
---
Featuring never-before-seen photos from the set and posters and other memorabilia from Rick Dalton's career, an original, exclusive script for a Bounty Law episode by Quentin Tarantino titled "Incident at Inez" and a Mad Magazine parody of Bounty Law titled "Lousy Law: Loser's Last Ride"
Quentin Tarantino's long-awaited first work of fiction—at once hilarious, delicious, and brutal—is the always surprising, sometimes shocking new novel based on his Academy Award- winning film.
The sunlit studio back lots and the dark watering holes of Hollywood are the setting for this audacious, hilarious, disturbing novel about life in the movie colony, circa 1969.   
Once Upon a Time in Hollywood tells the story of washed-up actor Rick Dalton. Once Rick had his own television series, a famous western called Bounty Law. But "it ain't been that time in a long time" and now Rick's only regular parts are as the heavy, ready to be bested by whichever young "swingin' dick" the networks want to make a new star out of come pilot season. When a talent agent approaches Rick about starring in Italian Westerns ("Eye-talian Westerns"?), it only ignites a new crisis of confidence for the perpetually insecure actor.  
And then there's Rick's stunt double, Cliff Booth, a war hero who killed more Japanese soldiers during the Second World War than any other American, and who never thought he'd make it back home. If Rick's career has stalled, Cliff's has flamed out. Already living under a cloud of suspicion after the strange death of his wife at sea, Cliff makes the mistake of picking the wrong fight on set, and is soon reduced to the status of Rick's full-time gofer. 
Right next door to Rick's still glamourous Benedict Canyon home ("the house that Bounty Law built") some Hollywood dreams are coming true, and these dreams belong to Sharon Tate. Not only is she Mrs. Roman Polanski—married to the only true rock star director—but Sharon is fast becoming a star in her own right, living life on the upswing in a tough town. 
Only a few miles away, in the desert around Chatsworth, lives a different kind of dreamer. Charles Manson is an ex-con who has spellbound a group of hippie misfits living with him in squalor on an old "movie ranch." Little do his young followers know to what degree Charlie himself is an industry striver, more desperate for Columbia Records and Tapes's attentions than for the revolution he preaches. 
These indelible characters—and many more: an acting child prodigy beaming with hope; a booze-drenched former A-lister who's lost it all—occupy a vanished world from not so long ago that is brought to brilliant life in these pages. Here is 1969, the music, the cars, the movies and TV shows. And here is Hollywood, both the fairy tale and the real thing, as given to us by a master storyteller who knows it like the back of his hand.  
About the Author
---
Quentin Tarantino was born in 1963 in Knoxville, Tennessee. He is the writer-director of nine feature films, the winner of two Academy Awards for Best Original Screenplay, and the author of the novel Once Upon a Time in Hollywood. Cinema Speculation is his first work of nonfiction.
Praise For…
---
"Quentin Tarantino's first novel is, to borrow a phrase from his oeuvre, a tasty beverage…He's here to tell a story, in take-it-or-leave-it Elmore Leonard fashion, and to make room along the way to talk about some of the things he cares about — old movies, male camaraderie, revenge and redemption, music and style…In Once Upon a Time in Hollywood, Tarantino makes telling a page-turning story look easy, which is the hardest trick of all."  — Dwight Garner, The New York Times
"Classic, sparks-flying Tarantino…Tarantino's explosive dialogue, with its blend of streetwise and formal cadences, is almost as effective written down as read aloud…Far from being the throwaway artifact it sometimes pretends to be, Tarantino's first novel may even, as he's hinted, herald the start of a new direction for this relentlessly inventive director."  — The Washington Post
"Tarantino, celebrated for his screenplays, truly is a literary force, stepping forward as a novelist adept at using an omniscient point of view to powerful effect in a novel driven by its characters' inner lives and smart, witty, and salty dialogue of propulsion and nuance, hilarity and heartbreak….It will also offer a stereoscopic experience for most readers as they envision the characters as played by the movie's cast…a doubling that will inspire fanatic comparisons between film and page. But this is a work of literary art in its own right, a novel that, if the movie didn't exist, would captivate readers with its own knowing vision and zestful power."  — Donna Seaman, Booklist