A Dreadful Splendor: An Edgar Award Winner (Paperback)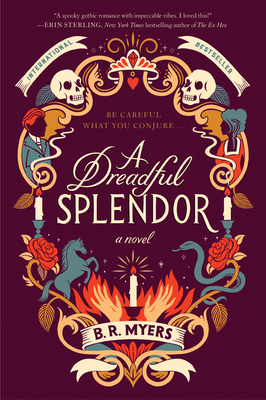 Staff Reviews
---
So, this book had me second guessing myself so much and the ending definitely not what I was expecting. Dreadful Splendor is just what its title dreadful and splendor it all depends on who you ask in this book....then again they may all say dreadful. (It was the 1800's). The turn at the end I was not expecting and it plays so well in with that happened prior that it makes me want to reread it and see if there were any clues left. If you like gothic and well dreadful things this is for you.
— From
Mercedes' Picks
Think: A Gothic manor much like Jane Eyre's Thornfield Hall, with a dreamy romantic interest as brusque as Mr. Rochester. Now flip that into a full-fledged murder mystery with seances and a Halloween feel in the middle of the year. The self-titled spiritualist, Genevieve Timmons, is a master of fraud, but can she deceive two people at once and avoid the gallows, all while trying to reconcile her place in society?
— From
Danielle's Picks (page 2)
Description
---
INTERNATIONAL BESTSELLER • WINNER OF THE MARY HIGGINS CLARK AWARD
"This gem of a book sparkles with wit and originality. . . . There is no shortage of tricks and feints in this excellent novel and Genevieve is a delightful character." — The Globe and Mail
"A spooky gothic romance with impeccable vibes. I loved this!" — Erin Sterling, New York Times bestselling author of The Ex Hex and The Kiss Curse
In this wickedly whimsical Gothic murder mystery brimming with romance, betrayals, and chills, a fake spiritualist is summoned to hold a séance for a bride who died on the eve before her wedding, but as nefarious secrets are revealed, the line between hoax and haunting blurs.
Be careful what you conjure...
In Victorian London, Genevieve Timmons poses as a spiritualist to swindle wealthy mourners—until one misstep lands her in a jail cell awaiting the noose. Then a stranger arrives to make her a peculiar offer. The lord he serves, Mr. Pemberton, has been inconsolable since the tragic death of his beautiful bride-to-be. If Genevieve can perform a séance persuasive enough to bring the young lord peace, she will win her freedom.
Soothing a grieving nobleman should be easy for someone of Genevieve's skill, but when she arrives at the grand Somerset Park estate, Mr. Pemberton is not the heartbroken lover she expected. The surly—yet exceedingly handsome—gentleman is certain that his fiancée was murdered, even though there is no evidence. Only a confession can bring justice now, and Mr. Pemberton decides Genevieve will help him get it. With his knowledge of the household and her talent for illusion, they can stage a haunting so convincing it will coax the killer into the light. However, when frightful incidents befall the manor, Genevieve realizes her tricks aren't required after all. She may be a fake, but Somerset's ghost could be all too real…
A Dreadful Splendor is delicious brew of mystery, spooky thrills, and intoxicating romance that makes for a ghoulishly fun and page-turning read.
"A delightful mix of gothic, mystery, and romance. I had such fun reading this book!" — Gwenda Bond, New York Times bestselling author of Not Your Average Hot Guy
About the Author
---
Always in the mood for a good scare, B. R. MYERS spent most of her teen years behind the covers of Lois Duncan, Ray Bradbury, and Stephen King. She is the author of the international bestseller, A Dreadful Splendor, winner of the Mary Higgins Clark Award, as well as numerous YA books. When not putting her characters in precarious situations, B. R. Myers works as a registered nurse. A member of the Writers' Federation of Nova Scotia, she lives in Halifax with her family—and there is still a stack of books on her bedside table.
Praise For…
---
"A spooky gothic romance with impeccable vibes. I loved this!" — Erin Sterling, New York Times bestselling author of The Ex Hex and The Kiss Curse
"A Dreadful Splendor is a delightful mix of gothic, mystery, and romance. Con artist heroine Genevieve is a memorable addition to literature's gallery of charming rogues. I had such fun reading this book." — Gwenda Bond, New York Times bestselling author of Not Your Average Hot Guy
"This gem of a book sparkles with wit and originality. . . . There is no shortage of tricks and feints in this excellent novel and Genevieve is a delightful character." 
— The Globe and Mail
"An intriguing whodunit . . . Myers nicely couples an unlikely and unethical sleuth with an atmospheric puzzle. Fans of roguish investigators will be delighted." — Publishers Weekly
"Remember Penny Dreadful with Eva Green? Me too, and this book promises to fill the Victorian-era-séance-shaped void the show left in my heart. It's also bound to satisfy fans of other amateur Victorian sleuths, like in A Curious Beginning, with the added bonus of Genevieve's roguish ways — which obviously only make the journey more fun." — Book Riot, The Best Books Out this Week
"A perfectly splendid novel . . . It can be easily read and relished by anyone ages twelve and up, as it is devoid of both crude language and explicit sex scenes. It is an attention grabbing, vividly imagined, suspenseful Victorian gothic mystery romance which this reader found impossible to put down! . . . The writing is fresh, original, full of surprises and features a captivating heroine in Genevieve Timmons. It's a gem!" — Booktrib
"A page-turner . . . combining mystery, romance and spiritualism in a Victorian London setting full of secrets and seances."
— Saltwire (Halifax, Canada)
"Breathtaking, puzzling and spine-chilling all at once. A spectacular, haunting mystery with a touch of romance and twists galore. Absolutely brilliant!" — T.A. Willberg, author of the Marion Lane Mysteries
"Thrilling, atmospheric and propulsive, with healthy doses of heart and humor thrown in for good measure, A Dreadful Splendor is a cleverly crafted mystery with an irrepressible heroine you won't soon forget. I can't remember the last time I had this much fun reading a book!" — Tom Ryan, International Thriller Award-winning author of Keep This to Yourself
"Delicious double crosses, a haunted estate, and a heroine who might just lose her heart — if she can keep her neck out of the hangman's noose. A Dreadful Splendor will keep readers guessing." — Kathleen Peacock, author of You Were Never Here 
"An enjoyable interpretation of an old favorite." — Publishers Weekly on Rogue Princess
"Fun and imaginative." — School Library Journal on Rogue Princess
"Delightful . . . a unique and fun retelling that I won't forget." — The Nerd Daily on Rogue Princess
"What's not to love? . . . A swoonworthy read." — Booklist on Rogue Princess