Really Good, Actually: A Novel (Hardcover)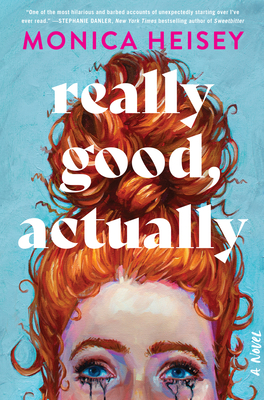 Staff Reviews
---
Maggie lived a normal life just like one was supposed to. She never thought her marriage would end in a divorce just after one year. Now she has to deal with the new normal things like what are they going to do about their cat Janet, is she actually bisexual after all or is it just another phase, and why do all of her tinder dates look like her ex so much. Will she discover her true self and make him regret the day he left, or will she cry herself to sleep while eating a cold cheeseburger at 3 a.m. Heisey makes me fold in half laughing one page and makes me run for the tissues on the next in this debut novel.
— From
Sergio's Picks (page 2)
February 2023 Indie Next List
---
"This book follows a woman's first year of singledom after her brief marriage unceremoniously falls apart. Depression, delusion, and self-pity all star here, but the author handles it all with tenderness and a dash of humor."
— Tracy Affonso, Wellesley Books, Wellesley, MA
Description
---
NATIONAL BESTSELLER
"Very funny—think Bridget Jones meets 'Broad City'. . . . Heisey is making a career out of guiding characters through the kinds of crises we can laugh at and sympathize with all at once, while upending enough rom-com tropes to keep things interesting." – Bethanne Patrick, Los Angeles Times
"One of the most hilarious and barbed accounts of unexpectedly starting over I've ever read. . . . If you've ever felt lost and hoped that it was leading towards wisdom, Really Good, Actually is your novel." — Stephanie Danler, New York Times bestselling author of Sweetbitter
Recommended by Los Angeles Times • Washington Post • GQ • Elle • Good Morning America • People • Guardian • The Times • E! News Online • The Globe and Mail • Toronto Star • The Week • New York Post • Shondaland • and many more!
A hilarious and painfully relatable debut novel about one woman's messy search for joy and meaning in the wake of an unexpected breakup, from comedian, essayist, and award-winning screenwriter Monica Heisey
Maggie is fine. She's doing really good, actually. Sure, she's broke, her graduate thesis on something obscure is going nowhere, and her marriage only lasted 608 days, but at the ripe old age of twenty-nine, Maggie is determined to embrace her new life as a Surprisingly Young Divorcée™.
Now she has time to take up nine hobbies, eat hamburgers at 4 am, and "get back out there" sex-wise. With the support of her tough-loving academic advisor, Merris; her newly divorced friend, Amy; and her group chat (naturally), Maggie barrels through her first year of single life, intermittently dating, occasionally waking up on the floor and asking herself tough questions along the way.
Laugh-out-loud funny and filled with sharp observations, Really Good, Actually is a tender and bittersweet comedy that lays bare the uncertainties of modern love, friendship, and our search for that thing we like to call "happiness". This is a remarkable debut from an unforgettable new voice in fiction.
"A prime example of how a storyteller's voice can pull you right in and keep you clinging to every sentence. . . . This is a book I will give to my closest girlfriends and say, 'You have to read this.'" — Zibby Owens, GoodMorningAmerica.com
"Tremendously funny and thoughtful." –GQ 
About the Author
---
Monica Heisey is a comedian and writer from Toronto. She has been published in The New Yorker, The New York Times, Vogue, Elle, The Guardian, Glamour, New York magazine, VICE, and more. She won four Canadian Screen Awards for her work on Baroness von Sketch Show, and has written on shows like Schitt's Creek, and Workin' Moms, among others. She currently lives in London, UK. This is her first novel.
Praise For…
---
"Very funny—think Bridget Jones meets Broad City. . . . Heisey is making a career out of guiding characters through the kinds of crises we can laugh at and sympathize with all at once, while upending enough rom-com tropes to keep things interesting." — Bethanne Patrick, Los Angeles Times
"Heisey's adroit control of her narrative and wickedly funny turns of phrase mean Maggie can become monstrous as she flails from one disastrous choice to the next, but remains heartbreakingly relatable . . . It's an intoxicating mix of needle-sharp observation and soggy mess of emotion, and heralds a really good author to watch." — The Times (UK)
"A tender yet sharp novel that tells the heartbreaking and hilarious tales of a young woman going through a divorce." — Entertainment Weekly
"A cringe-filled, funny—and surprisingly poignant—look at one woman's self-discovery after heartbreak." — People, Book of the Week
"One of the most hilarious and barbed accounts of unexpectedly starting over I've ever read. Monica Heisey isn't just interested in the romantic side of divorce, but in how our identities collapse and the freefall that accompanies it. If you've ever felt lost and hoped that it was leading towards wisdom, Really Good, Actually is your novel." — Stephanie Danler, New York Times bestselling author of Sweetbitter
"Sharp and fast, the funniest book I've read in a long time. Keen on the vulnerability and debasement of separation." — Raven Leilani, New York Times bestselling author of Luster 
"I absolutely loved it, it's so funny and so astute . . . Hilarious, heartwarming, wise." — Paula Hawkins, #1 New York Times bestselling author of A Slow Fire Burning
"Really Good, Actually is a goddamn delight. Heisey doesn't shy away from any of the hard stuff, showcasing the myriad ways people turn into little monsters when their hearts get broken and lose sight of themselves. This novel is wildly funny and compulsively readable, the kind of book you immediately share with your best friend. I adored it." — Kristen Arnett, New York Times bestselling author of Mostly Dead Things
"Monica Heisey's tale of starter divorce is the funniest account of badly matched people squaring off since Heartburn, and is the go to tome for what heartbreak and self-actualization mean in the age of the internet. I cackled, cried, and felt very, very seen." — Lena Dunham, actress, screenwriter and bestselling author
"Monica Heisey is a very funny writer, which would be enough for me to recommend this book. But you have to remember: humor isn't a supplement to realism; it's a necessary component of it. Really Good, Actually may start out like a light-hearted not-so-romantic comedy, but it quickly transforms into something more tense and existential, a realistically absurd portrait of a woman who has no idea who she is or what is going on. And yeah, it's really funny." — Lauren Oyler, bestselling author of Fake Accounts
"Funny. Astutely observed. I loved it. Monica Heisey is a star writer."  — B.J. Novak, #1 New York Times bestselling author of One More Thing: Stories and Other Stories
"The kind of book you miss when you finish but that also leaves you feeling so deliciously content and satisfied. Heisey's pen is by turns relentlessly sharp, incisively funny, sneakily disarming and heartbreakingly tender. This is a wonderful story about love, loss, friendship, rediscovering yourself and the hope that after coming messily apart it is possible to come back together fuller again. Maggie felt like a chaotic friend I adore and Heisey tells her story beautifully." — Bolu Babalola, bestselling author of Honey & Spice 
"From the moment I picked up this book, I haven't stopped talking about it. Really Good, Actually is a hilarious look at divorce, friendship, identity, and the many ways we try and fail to take care of each other. Monica Heisey has given us a modern-day Heartburn, a brilliant, unique, charming novel that I will be recommending to every single person I know." — Jennifer Close, bestselling author of Girls in White Dresses
"If Bridget Jones had a long-lost Canadian niece, it would be Monica Heisey's utterly lovable hot-mess of a young divorcee, Maggie. Her voice is so fresh and funny and true, it feels like you've never heard it before, yet so familiar that you will follow it anywhere. Really Good, Actually will also totally make you want to marry each and every one of its comic digressions (the mid-heartbreak Google Searches; the Unanswered Texts, the Tinder Correspondences) because they are so perfect and brilliant and because really, what's better than the deep black humor of heartbreak?" — Laura Zigman, bestselling author of Separation Anxiety 
"Every sentence of Monica Heisey's writing is a treat. Her observations on men, women, friendship, family, love, sexuality and womanhood are equal parts hilarious and profound. No one makes me laugh like she does." — Dolly Alderton, bestselling author of Ghosts
"Impossibly funny, endearingly felt, alive and rich and ultimately a story of trying not only to find one's self but to figure out how best to care for the people we love. I woke up both my husband and my dog laugh-crying while reading this book." — Lynn Steger Strong, author of Flight
"This is for you if you're looking to laugh out loud. . . . It's dirty, it's funny, it's fantastic." — Isaac Fitzgerald, bestselling author of Dirtbag, Massachusetts on the Today Show
"With brains, guts, heart, and hundreds of killer one-liners, Heisey makes millennial angst and ennui relatable and genuinely funny." — Jen Beagin, author of Big Swiss 
"Monica Heisey makes me laugh hard and often." — Rob Delaney
"Heisey perfectly captures the realities of a big, bad breakup, and it couldn't be more refreshing. Add that to the downright loveable cast and you've got the perfect anti-rom com." — Bust magazine 
"A young divorcée stumbles through modern dating, adult friendship, mental health issues and self-discovery in this darkly funny novel about spinning out before starting over. . . . Moments of genuine pain, joy or self-interrogation combine with dark humor to make a novel that manages to remain engaging even as Maggie slides to an inevitable rock bottom. . . . Really Good, Actually is a coming-of-age novel for adults trying to connect in the age of apps. Fans of My Year of Rest and Relaxation, Queenie or shows like HBO's Girls will want to give it a read." — Shelf Awareness
"Comedian and TV writer Heisey delivers an appealing debut novel (after the essay collection I Can't Believe It's Not Better) about a 28-year-old stalled PhD candidate left adrift after her divorce . . . Even in its darkest moments the book is very funny, and Heisey's inspired skewering of urban millennial life hits the mark. Readers will gobble up this Bridget Jones's Diary for the smartphone era." — Publisher's Weekly
"Heisey's portrayal of the joys and pitfalls of online dating will ring true, and Maggie's self-deprecating, often snarky humor keeps the deeper themes of the story from getting too heavy. It's a thoroughly modern take on 1990s chick lit, exaggeratedly over the top in the best possible way. Readers will cheer messy Maggie on as she stumbles inelegantly toward a happy, postdivorce life." — Booklist
"A prime example of how a storyteller's voice can pull you right in and keep you clinging to every sentence. . . . This is a book I would/will give to my closest girlfriends and say, 'You have to read this.'" — Zibby Owens, GoodMorningAmerica.com
"Heisey's comedic and sage depiction of life and love's unexpected pitfalls is heartwarming." — POPSUGAR 
"Prepare for a charmingly messy and relatable reflection of modern love and the elusive search for happiness in Heisey's heartfelt and hilarious debut novel." — E! News
"Readers will surely relate to Maggie as she navigates these choppy new waters…Really Good, Actually is a balm that will soothe the soul." — Shondaland, The Best Books for January 2023
"Tremendously funny and thoughtful." — GQ
"Confiding and delightfully crass . . . Come for the crying and masturbating and post-split Tinder roundelays; stay for the mordant, messy wit that lights up nearly every page."
— Entertainment Weekly, Winter 2023 Books Preview
"Surprisingly hilarious and bittersweet. A funny and talented debut."  — New York Post
"This novel's, well, really good, actually. Appropriately so…since the author is a former "Schitt's Creek" writer who knows a thing or two about humor, plot, and relatable characters. Her novel, which has major Bridget Jones vibes, follows a 29-year-old stalled PhD student as she re-enters the dating world as a recent divorcée. It's witty and charming and perfect for your next book club." — theSkimm
"An uproarious millennial existential crisis novel." — Elle
"A smart and funny coming-of-divorce novel, a story of self-reckoning with a likable heroine to root for . . . full of millennial witticisms and reliably regular deadpan turns." — Shahidha Bari, Guardian (UK)
"Superbly cutting . . . brilliantly sardonic . . . a Sex and the City for social media-obsessed millennials . . . An irresistible debut." — Metro (UK)
"Painfully funny." — Lisa O'Kelly, Observer (UK)
"Believe the hype . . . At once self-mocking and serious, Heisey's whip-smart tale of Millennial disillusionment and dawning self-knowledge sends up 'personal growth' cliches while exploring friendship, sexuality, body image and online performativity . . . A meticulous portrayal of self-destructive behaviour that is both painfully accurate and mordantly funny . . . For fans of Sheila Heti and Sloane Crosley." — The Bookseller (UK)