The Death of a Jaybird: Essays on Mothers and Daughters and the Things They Leave Behind (Paperback)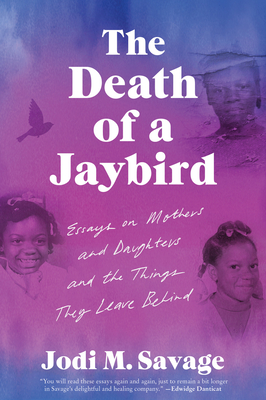 Description
---
Reminiscent of The Year of Magical Thinking and Somebody's Daughter, a deeply empathetic and often humorous collection of essays that explore the author's ever-changing relationships with her grandmother and mother, through sickness and health, as they experience the joys and challenges of Black American womanhood.
Jodi M. Savage was raised in Brooklyn, New York, by her maternal grandmother. Her whip-smart, charismatic mother struggled with addiction and was unable to care for her. Granny—a fiery Pentecostal preacher who had a way with words—was Jodi's rock, until Alzheimer's disease turned the tables, and a 28-year-old Jodi stepped into the role of caretaker. It was up to Jodi to get them both through the devastations of a deteriorating mind. After Granny passed away, Jodi spent years trying to reckon with her grief. Jodi and her mother were both diagnosed with breast cancer nearly a decade later, and then Jodi lost her too.
In this searing, candid collection of essays, Jodi illuminates the roles that identity and memory play in preserving those we love. Jodi explores the lives of modern Black women and communities through the prism of her personal experiences. With grace, creativity, and insight, she looks at femininity, family, race, mental illness, grief, healthcare, and faith. Jodi deftly portrays how trauma is inherited, and how the struggle to break a generational curse can last a lifetime.
The Death of a Jaybird is a thoughtful examination of complicated family love, loss, and the liberating power of claiming our stories.
About the Author
---
Jodi M. Savage is a writer, speaker and DEI attorney in New York City. Her essays have appeared in the Huffington Post, Catapult, Kweli Journal, WSQ Journal and the VIDA Review. Jodi facilitates workshops about grief, caregiving, breast cancer, Alzheimer's disease and writing the mother wound. She is a Goldwater Fellow and a current MFA candidate in New York University's creative nonfiction program. The Death of a Jaybird is her first book.  
Praise For…
---
"In this impassioned and unforgettable collection of essays, Jodi M. Savage explores the joy, beauty, and sadness that fill the lives of three generations of women, some who love too much, and others struggling to love and be loved. Telling her own astonishing story, along with her mother's and grandmother's, Savage's essays are filled with the hard-earned wit and wisdom of a writer on a revelatory journey that makes us laugh out loud while also moving us to tears. You will read these essays again and again, just to remain a bit longer in Savage's delightful and healing company."  — Edwidge Danticat, author of Brother, I'm Dying and Everything Inside, winner of the 2023 PEN/Malamud Award for Excellence in the Short Story, the National Book Critics Circle Award, the Story Prize, and the 2020 Vilcek Prize in Literature
"Throughout, Savage writes as if speaking with a friend, relating her experiences, and that of others, with sincerity. Readers of all backgrounds are certain to appreciate her struggles and her ability to cope with the challenges she has faced. Raw, honest, and heartbreaking." — Kirkus Reviews
"As someone who was raised by both my mother and my grandmother, I was laid bare by Jodi Savage's tender and tumultuous recounting of her relationships with her mother and grandmother. The moving essays in The Death of a Jaybird are at once beautifully singular and representative of Black women's experiences coping with love, loss, and grief." — Deesha Philyaw, author, The Secret Lives of Church Ladies, winner of the PEN/Faulkner Award for Fiction, the Story Prize, LA Times Book Prize, and finalist for the National Book Award for Fiction 
"In this collection of poignant and beautifully rendered essays, the wholeness of relationships between mothers and daughters comes alive in their true complexity, whether holding their volatility or their immense teachings of love. This book pulses like a bold, beating heart, and Jodi M. Savage's wit, profound humanity and abiding love for her foremothers illuminate how harrowing forces of religion, drug-addiction, and life-threatening illness—reflect not only how things have been, but offer a chance to reimagine what the future can be."  — Tanaïs, author of In Sensorium: Notes for My People, winner of the 2022 Kirkus Prize for Nonfiction
"Savage's writing is honest, nuanced, and thoughtful as she shares her grief and eventual coming to understanding, forgiveness, and peace. In African American lore, a jaybird's death is a sudden, unexpected, and brutal act; as reinterpreted by Savage's grandmother, dying the death of a jaybird meant experiencing an ultimate, horrifically embarrassing episode. Savage deftly explores these extremes and other vicissitudes of life with wit and grace." — Booklist (starred review)
"It's one thing to grieve one's mother after she has died, quite another to grieve her even as she lives. In this witty and moving collection centered on the complicated love between three generations of Black women, Jodi Savage does both with compassion and grace. The Death of a Jaybird is a timely reminder about the power of narrative to soothe our souls."  — Kim McLarin, author of Everyday Something Has Tried to Kill Me and Has Failed
"The Death of a Jaybird is an exquisite and moving meditation on mothering and care across generations, on the complicated power of Black spiritualities and communities, and on resiliency in the face of trauma, illness, and grieving. Savage offers an unforgettable portrait of Black Pentecostal faith through her account of her grandmother's life, love, and lessons." — Judith Weisenfeld, Agate Brown and George L. Collord Professor of Religion and Chair, Department of Religion, Princeton University
"Jodi Savage's debut essay collection is a moving testament to her matriarchal lineage and a refreshingly honest account of what it's like to move through grief, love, and resilience. She writes about the complicated spaces one occupies as a daughter and granddaughter with grace, wit, and a faith that can only be found in words." — Michele Filgate, editor of What My Mother and I Don't Talk About 
"In this masterful memoir-in-essays, Jodi Savage pays tribute to the indomitable spirit of her grandmother, whose fiery Pentecostal faith is only matched by her abiding love for her granddaughter. With razor-sharp wit and a compassionate eye, Savage explores her journey away from her childhood faith, her path to healing from breast cancer, and her tumultuous relationship with her mother, whose battle with addiction tested their bonds. Deeply grounded in the reality of what it is to be a Black woman in America, The Death of a Jaybird is a testimony to the redemptive strength of radical acceptance. Savage's clear-eyed love for her complicated family radiates from the page." — Jessica Wilbanks, author of When I Spoke in Tongues 
"(Death of a Jaybird) is a heartfelt and poignant debut that firmly stamps the author's entry into the literary landscape." — Shondaland.com 
"Savage's dexterous interventions into experiences of Black life and loss join a growing pile of works by authors creatively reimagining the relationship between grief and writing, including Elizabeth Alexander, Lorene Cary, Edwidge Danticat, Natasha Trethewey and Jesmyn Ward." — Washington Post