Edwina the Emu (Paperback)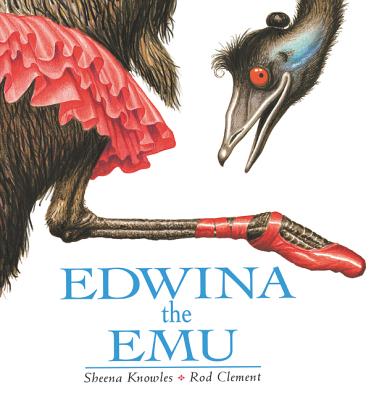 Description
---
TEN little emus?! You've got to be kidding!
When Edward and Edwina Emu find themselves expecting ten little emus, Edwina tries her feathers at a variety of jobs to support the growing family, from chimney sweep to ballet dancer. 
Rhythmic, rhyming verse by Sheena Knowles and hilarious illustrations by Rod Clement make this an entertaining picture book that's perfect for reading aloud. This sequel to the popular Edward the Emu is an excellent choice to share in the classroom or at home—both adults and kids will laugh at and sympathize with the Emu family.
About the Author
---
Sheena Knowles was born in Geelong, Australia, and has enjoyed a long career in advertising, during which she has won awards in the U.S., Australia, Europe, and the United Kingdom. She is also the author of Edwina the Emu, illustrated by Rod Clement. She lives in Victoria, Australia, with her two children.
Rod Clement works as an illustrator, caricaturist, and cartoonist for several Australian newspapers. He is the illustrator of Edwina the Emu, by Sheena Knowles, and has written and illustrated many books for young readers, including Counting on Frank, Just Another Ordinary Day, and Grandpa's Teeth. Mr. Clement lives in Sydney, Australia.

Rod Clement is a well-known author, illustrator and cartoonist. He has written and illustrated Grandpa's Teeth and Just Another Ordinary Day and illustrated Edward the Emu and Edwina the Emu, both written by Sheena Knowles. He is also a caricaturist for several Australian newspapers. Mr. Clement lives in Sydney, Australia.