Oil Spill! (Let's-Read-and-Find-Out Science 2) (Paperback)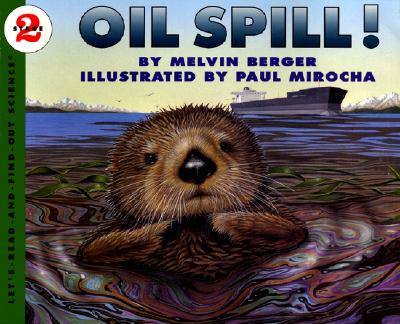 $5.99

Not Available In-Store - Usually Ships from Warehouse in 1-5 Days
Description
---
Read and find out about oil spills in this colorfully illustrated nonfiction picture book.
Did you know that an oil spill occurs somewhere in the world almost every day of the year? Oil spills can have many different causes, but the result is the same. Oil harms plants and wildlife that make the oceans and coastlines their home. Scientists are learning the best ways to combat oil spills. Learn how you can help, too!
This is a clear and appealing science book for early elementary age kids, both at home and in the classroom. It's a Level 2 Let's-Read-and-Find-Out, which means the book explores more challenging concepts for children in the primary grades. The 100+ titles in this leading nonfiction series are:
hands-on and visual
acclaimed and trusted
great for classrooms
Top 10 reasons to love LRFOs:
Entertain and educate at the same time
Have appealing, child-centered topics
Developmentally appropriate for emerging readers
Focused; answering questions instead of using survey approach
Employ engaging picture book quality illustrations
Use simple charts and graphics to improve visual literacy skills
Feature hands-on activities to engage young scientists
Meet national science education standards
Written/illustrated by award-winning authors/illustrators & vetted by an expert in the field
Over 130 titles in print, meeting a wide range of kids' scientific interests
Books in this series support the Common Core Learning Standards, Next Generation Science Standards, and the Science, Technology, Engineering, and Math (STEM) standards. Let's-Read-and-Find-Out is the winner of the American Association for the Advancement of Science/Subaru Science Books & Films Prize for Outstanding Science Series.
About the Author
---
Melvin Berger is the author of many classic LRFOs, including Germs Make Me Sick!, Oil Spills! and Why I Cough, Sneeze, Shiver, Hiccup, and Yawn, as well as other nonfiction on the Harper backlist. He lives in East Hampton, NY.
Roma Gans is an expert in early childhood education, professor emeritus of Teachers College, Columbia University, and co-founder and editor of the Let's-Read-and-Find-Out-Science series. Dr. Gans lives in West Redding, Connecticut.
Paul Mirocha has illustrated several books for children, including Melvin Berger's Let's-Read-and-Find-Out-Science Book, Oil Spill! Mr. Mirocha lives in Tucson, Arizona.