The Neverending Story (Mass Market)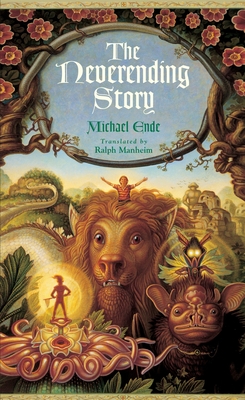 Staff Reviews
---
Very few books have ever inspired my imagination quite like this one. This is the classic story of Bastian Balthazar Bux, a troubled young boy who reads The Neverending Story and is transported through it to the world of Fantastica, a world of wonder where wishes come true. Any reader who follows in his footsteps will journey to incredible places, meet delightful characters, and discover marvelous creatures. It is a grand and thrilling adventure, and one I will always hold dear. There is real magic in these pages: the magic of reading, the sorcery of stories, the power of creativity and imagination. No other book has ever captured that magic so beautifully. The Neverending Story stands as one of my favorite fantasy novels of all time.  
—
Jason F.
Description
---
Read the book that inspired the classic coming-of-age film! From award-winning German author Michael Ende, The Neverending Story is a classic tale of one boy and the book that magically comes to life. 

When Bastian happens upon an old book called The Neverending Story, he's swept into the magical world of Fantastica--so much that he finds he has actually become a character in the story! And when he realizes that this mysteriously enchanted world is in great danger, he also discovers that he is the one chosen to save it. Can Bastian overcome the barrier between reality and his imagination in order to save Fantastica?


"An instantaneous leap into the magical . . . Energetic, innovative, and perceptive"—The Washington Post

"A trumpet blast for the imagination."—Sunday Times
About the Author
---
Michael Ende (www.michaelende.de) was born in Garmisch-Partenkirchen, Germany, in 1929. After attending drama school from 1948 to 1950, he worked variously as an actor, a writer of sketches and plays, a director of the Volkstheater in Munich, and a film critic for the Bavarian broadcasting company. His first novel for children, Jim Knopf and Lukas the Engine Driver, was published in Germany in 1960 to great popular and critical acclaim, and both radio and televsion series based on the Jim Knopf books were soon produced. In 1973 he published another award-winning children's novel, Momo. When The Neverending Story was first published in Germany in 1979 it immediately became the number-one bestseller arnd remained in that position for three years. It has since been published in many different languages all over the world, including Japanese, and has enchanted readers in each country in which it has appeared.
Praise For…
---
Praise for The Neverending Story...

"An instantaneous leap into the magical … Energetic, innovative, and perceptive"—The Washington Post

"A rich, enjoyable read … Succeeds by drawing in the most potent elements of fairytale, myth, and invented fantasy."—The Observer

"You might just get in touch with the child in you who clapped her hands for Tinker Bell."—Glamour

"A trumpet blast for the imagination."—Sunday Times