The Rise and Fall of Athens: Nine Greek Lives (Paperback)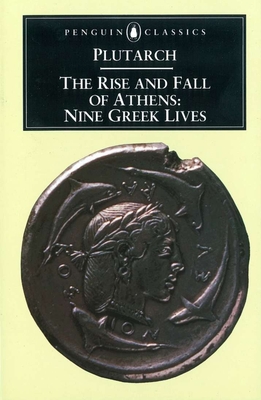 Description
---
Nine Greek biographies illustrate the rise and fall of Athens, from the legendary days of Theseus, the city's founder, through Solon, Themistocles, Aristides, Cimon, Pericles, Nicias, and Alcibiades, to the razing of its walls by Lysander.

For more than seventy years, Penguin has been the leading publisher of classic literature in the English-speaking world. With more than 1,700 titles, Penguin Classics represents a global bookshelf of the best works throughout history and across genres and disciplines. Readers trust the series to provide authoritative texts enhanced by introductions and notes by distinguished scholars and contemporary authors, as well as up-to-date translations by award-winning translators.
About the Author
---
Plutarch (c.50-c.120 AD) was a writer and thinker born into a wealthy, established family of Chaeronea in central Greece. He received the best possible education in rhetoric and philosophy, and traveled to Asia Minor and Egypt. Later, a series of visits to Rome and Italy contributed to his fame, which was given official recognition by the emperors Trajan and Hadrian. Plutarch rendered conscientious service to his province and city (where he continued to live), as well as holding a priesthood at nearby Delphi. His voluminous surviving writings are broadly divided into the "moral"works and the Parallel Lives of outstanding Greek and Roman leaders. The former (Moralia) are a mixture of rhetorical and antiquarian pieces, together with technical and moral philosophy (sometimes in dialogue form). The Lives have been influential from the Renaissance onwards.