Catiline's War, The Jurgurthine War, Histories (Paperback)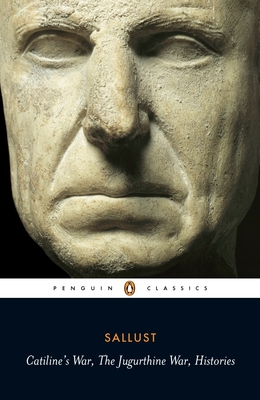 $17.00

Special Order - Subject to Availability
Description
---
Sallust is the earliest Roman historian of whom complete works survive, a senator of the Roman Republic and younger contemporary of Cicero, Pompey and Julius Caesar. His Catiline's War tells of the conspiracy in 63 bc led by L. Sergius Catilina, who plotted to assassinate numerous senators and take control of the government, but was thwarted by Cicero. Sallust's vivid account of Roman public life shows a Republic in decline, prey to moral corruption and internal strife. In The Jugurthine War he describes Rome's fight in Africa against the king of the Numidians from 111 to 105 bc, and provides a damning picture of the Roman aristocracy. Also included in this volume are the major surviving extracts from Sallust's now fragmentary Histories, depicting Rome after the death of the dictator Sulla.

For more than seventy years, Penguin has been the leading publisher of classic literature in the English-speaking world. With more than 1,700 titles, Penguin Classics represents a global bookshelf of the best works throughout history and across genres and disciplines. Readers trust the series to provide authoritative texts enhanced by introductions and notes by distinguished scholars and contemporary authors, as well as up-to-date translations by award-winning translators.
About the Author
---
Sallust (Gaius Sallustius Crispus), (86-34 BC), was a Roman historian. His principal works are the Bellum Catilinae, on the conspiracy of Catiline and his account of the Jugurthine War, Bellum Jugurthinum.

A. J. Woodman is the Basil L. Gildersleeve Professor of Classics at the University of Virginia. He has co-authored commentaries on Tacitus' Annals, and a monograph Latin Historians. Most recently he produced Tacitus Reviewed, co-edited Traditions and Contexts in the Poetry of Horace, and published an award-winning translation of Tacitus' Annals.