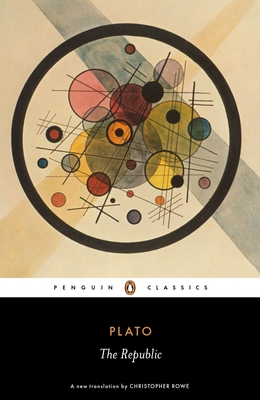 Staff Reviews
---
Plato's Republic probably one of the titular titles anyone thinks of when they contemplate ancient philosophy—and for good reason. Unlike contemporaries such as Zeno and Aristotle, Plato's theories of forms and intense commitment to a political meritocracy still have meaning and application, even over two thousand years after they were written. And unlike even more "modern" philosophers like Kant or Mill, Plato's political and ethical theories are startlingly modern and mostly devoid of unsavory biases like apologetics for colonialism or musings on the inherent inferiority of the female sex. Plato's Republic is a masterwork of epistemology, metaphysics, ethics, and political philosophy. Any inspiring philosopher really ought to have this title under his or her belt—not only for posterity, but also because it truly is good enough to stand the test of the millennia solely on its own merits.
—
Jennie
Description
---
An authoritative new translation of Plato's foundational work of Western philosophy

The Republic is Plato's masterwork. It was written 2,400 years ago and remains one of the most widely read books in the world, famous for both the richness of its ideas and the virtuosity of its writing. Presented as a dialogue between Plato's teacher Socrates and various interlocutors, it is an exhortation to study philosophy, inviting its readers to reflect on the choices we must make if we are to live the best life available to us. This complex, dynamic work creates a picture of an ideal society governed not money, power, or fame, but by philosophy, wisdom, and justice.

For more than seventy years, Penguin has been the leading publisher of classic literature in the English-speaking world. With more than 1,700 titles, Penguin Classics represents a global bookshelf of the best works throughout history and across genres and disciplines. Readers trust the series to provide authoritative texts enhanced by introductions and notes by distinguished scholars and contemporary authors, as well as up-to-date translations by award-winning translators.
About the Author
---
Plato
(c. 427–347 BC) founded the Academy in Athens, the prototype of all Western universities, and wrote more than twenty philosophical dialogues.
Christopher Rowe is a professor of Greek at Durham University, England.
Praise For…
---
"Must we not acknowledge...that in each of us there are the same principles and habits which there are in the State; and that from the individual they pass into the State?"

What does it mean to be good? What enables us to distinguish right from wrong? And how should human virtues be translated into a just society? These are the questions that Plato sought to answer in this monumental work of moral and political philosophy, a book surpassed only by the Bible in its formative influence on two thousand years of Western thought.

In the course of its tautly reasoned Socratic dialogues, The Republic accomplishes nothing less than an anatomy of the soul and an exhaustive description of a State that both mirrors and enforces the soul's ideal harmony. The resulting text is at once mystical and elegantly logical and may be read as a template for the societies in which most of us live today.

Vintage Classics are quality paperback editions of the world's greatest written works. They are durably bound and are printed exclusively on acid-free paper.