The Genius of Dogs: How Dogs Are Smarter Than You Think (Paperback)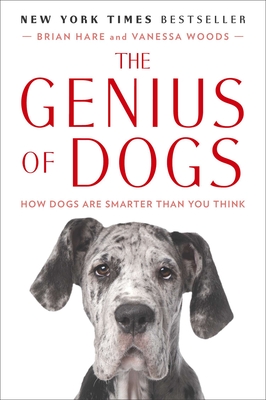 $17.00
Not Available In-Store - Usually Ships from Warehouse in 1-5 Days
Staff Reviews
---
Brian Hare started on a journey to find out what makes humans human by doing cognitive tests with some of our closest relatives: chimps. That was until he realized his dog Oreo could also complete some of these cognitive tests. Hare's globetrotting research will blow away even the dog lovers who see the genius of dogs everyday. Don't be fooled into thinking this is just a dog book though; in exploring the genius of dogs Hare discovers that the answer to being human may lie in places we don't expect.
—
Drew
Description
---
The perfect gift for dog lovers and readers of Inside of a Dog by Alexandra Horowitz—this New York Times bestseller offers mesmerizing insights into the thoughts and lives of our smartest and most beloved pets.
Does your dog feel guilt? Is she pretending she can't hear you? Does she want affection—or just your sandwich? In their New York Times bestselling book Th­e Genius of Dogs, husband and wife team Brian Hare and Vanessa Woods lay out landmark discoveries from the Duke Canine Cognition Center and other research facilities around the world to reveal how your dog thinks and how we humans can have even deeper relationships with our best four-legged friends.

Breakthroughs in cognitive science have proven dogs have a kind of genius for getting along with people that is unique in the animal kingdom. This dog genius revolution is transforming how we live and work with dogs of all breeds, and what it means for you in your daily life with your canine friend.


About the Author
---
Brian Hare is an associate professor in the Department of Evolutionary Anthropology and the Center for Cognitive Neuroscience at Duke University, where he founded the Duke Canine Cognition Center.

Vanessa Woods is a research scientist at the Center as well as an award-winning journalist and the author of Bonobo Handshake. Hare and Woods are married and live in North Carolina.
Praise For…
---
"Many authors have tried to anecdotally capture the emotional bond between humans and dogs. Here at last is a book that digs deep into cognitive science to unravel the mysteries of the canine brain. Thoroughly researched and written in the likable voice of a brainy scientist sitting at your kitchen table, The Genius of Dogs is a fascinating look at what goes on between the ears of the animals we share our lives with. I found it entertaining, fast-moving, and filled with gee-whiz insights that gave me a new appreciation for the complex social intelligence of man's best friend."
—John Grogan, author of Marley & Me and The Longest Trip Home

"The Genius of Dogs is a fantastic book. It makes it very clear that there are different kinds of intelligence. All dog lovers should read this book."
—Temple Grandin, author of Animals Make Us Human and Animals in Translation

"The definitive dog book of our time by the researcher who started a revolution."
—Daniel J. Levitin, author of This is Your Brain on Music and The World in Six Songs

"A masterful account of the way science is revealing just how smart dogs can be. Fascinating and highly readable."
—John Bradshaw, University of Bristol, author of Dog Sense

"With the help of some wolves, Russian foxes, New Guinea singing dogs and a Labrador Retriever named Oreo, Brian Hare tells us about his fascinating search for an understanding of how dogs think and communicate."
—Stanley Coren, author of Do Dogs Dream and Born to Bark

"Based on Brian Hare's game-changing research, The Genius of Dogs brilliantly explains the canine mind and in doing so illuminates the natural history of all intelligence. This book will captivate anyone interested in dog, ape or human mentality."
—Richard Wrangham, Harvard University, author of Catching Fire

"This is the best book in existence, by far, for learning about the recent revolution in our understanding of the minds of dogs. And its fun, too."
—Mike Tomasello, Co-Director, Max Planck Institute for Evolutionary Anthropology

"The Genius of Dogs is not just about dogs, and not just about genius. It's an exciting detective story by two comparative biologists with amazing discoveries to report."
—Bernd Heinrich, author of Mind of the Raven

"A fascinating, riveting, utterly engaging romp through the mind of man's best friend. I promise: You will never look at your dog the same way again."
—Maria Goodavage, author of Soldier Dogs