Scandals of Classic Hollywood: Sex, Deviance, and Drama from the Golden Age of American Cinema (Paperback)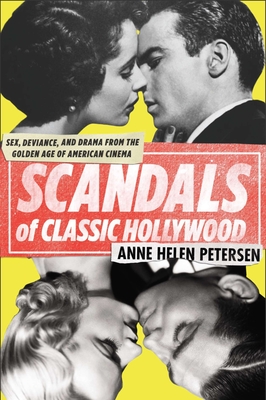 $17.00
Not Available In-Store - Usually Ships from Warehouse in 1-5 Days
Staff Reviews
---
Movie stars just aren't as glamorous as they used to be. The celebrities of yore did everything bigger than their contemporary counterparts. They wore the costliest of couture, made up fantastic pasts, and when they messed up, they did so spectacularly! Anne Helen Peterson, author of the fantastic Classic Hollywood Scandals blog posts on The Hairpin now has a book collecting all of these stories, and I couldn't be happier! Not only does she have a knack for picking great tales, she explains them thoroughly and thoughtfully, showing how different scandals were reflections upon the times in which they occurred. She ties in current events and societal mores of the past and present and has a fresh writing style that keeps it all engaging. I already love old movies, but even if I didn't, my inner rubbernecker would still enjoy this book! Come for the naughty bits, stay for the academic air.
—
LAUREN'S STAFF PICKS
Description
---
Celebrity gossip meets history in this compulsively readable collection from Buzzfeed reporter Anne Helen Peterson. This guide to film stars and their deepest secrets is sure to top your list for movie gifts and appeal to fans of classic cinema and hollywood history alike.

Believe it or not, America's fascination with celebrity culture was thriving well before the days of TMZ, Cardi B, Kanye's tweets, and the #metoo allegations that have gripped Hollywood. And the stars of yesteryear? They weren't always the saints that we make them out to be. BuzzFeed's Anne Helen Petersen, author of Too Fat, Too Slutty, Too Loud, is here to set the record straight. Pulling little-known gems from the archives of film history, Petersen reveals eyebrow-raising information, including:

• The smear campaign against the original It Girl, Clara Bow, started by her best friend
• The heartbreaking story of Montgomery Clift's rapid rise to fame, the car accident that destroyed his face, and the "long suicide" that followed
• Fatty Arbuckle's descent from Hollywood royalty, fueled by allegations of a boozy orgy turned violent assault
• Why Mae West was arrested and jailed for "indecency charges"
• And much more

Part biography, part cultural history, these stories cover the stuff that films are made of: love, sex, drugs, illegitimate children, illicit affairs, and botched cover-ups. But it's not all just tawdry gossip in the pages of this book. The stories are all contextualized within the boundaries of film, cultural, political, and gender history, making for a read that will inform as it entertains. Based on Petersen's beloved column on the Hairpin, but featuring 100% new content, Scandals of Classic Hollywood is sensationalism made smart.
About the Author
---
Anne Helen Petersen received her Ph.D. in media studies from the University of Texas, where she studied the industrial history of the gossip industry. After teaching in the university setting for several years, she transitioned to full-time feature writing, most recently with BuzzFeed. Her work has appeared in The Believer, The Awl, The Hairpin, Laptham's Quarterly, The Baffler, Pacific Standard, The Guardian, Los Angeles Review of Books, and Virginia Quarterly Review.
Praise For…
---
"Engaging…Petersen is an author for our age." –The Boston Globe

"Insightful." –TIME Magazine

"Clear and convincing…Although Petersen's book benefits from intelligent analysis of archival research, she writes with the verve of an enthusiast." –LA Times

"Terrific and thoughtful and fascinating." –NPR's Pop Culture Happy Hour

"Smart, relevant, and fun…think TMZ with a PhD." –Bitch

"Compulsively readable." –The Rumpus

"Compulsively readable…[Petersen] sheds light on often-repeated myths with impeccable research and razor-sharp analysis." –Yahoo

"[This] dishy book delivers the juicy anecdotes readers crave." –NY Post

"Dishy as hell." –Refinery29

"Not merely a rehash of salacious old Hollywood gossip, Petersen revivifies flattened images of Hollywood icons…Wide-ranging and surprisingly thoughtful." –Kirkus

"Brisk and lively." –Library Journal