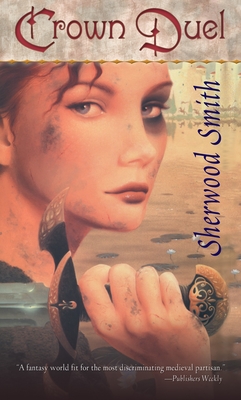 $8.99

Not Available In-Store - Usually Ships from Warehouse in 1-5 Days
Description
---
Young Countess Meliara swears to her dying father that she and her brother will defend their people from the growing greed of the king. That promise leads them into a war for which they are ill-prepared, which threatens the very people they are trying to protect. But war is simple compared to what follows, in peacetime. Meliara is summoned to live at the royal palace, where friends and enemies look alike, and intrigue fills the dance halls and the drawing rooms. If she is to survive, Meliara must learn a whole new way of fighting-with wits and words and secret alliances.

In war, at least, she knew in whom she could trust. Now she can trust no one.

The Firebird edition of Crown Duel combines the hardcover editions of Crown Duel and Court Duel-and features a never-before-published story by Sherwood Smith!
About the Author
---
Sherwood Smith started making books out of paper towels at age six. In between stories, she studied and traveled in Europe, got a Masters degree in history, and now lives in Southern California with her spouse, two kids, and two dogs. She's worked in jobs ranging from counter work in a smoky harbor bar to the film industry. Writing books is what she loves best. She's the author of the high fantasy History of Sartorias-deles series as well as the modern-day fantasy adventures of Kim Murray in Coronets and Steel. Learn more at www.sherwoodsmith.net.