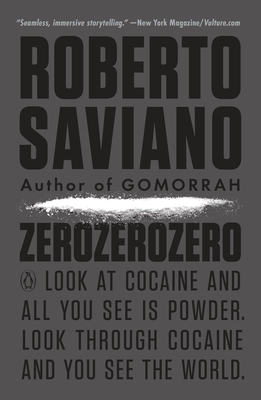 Staff Reviews
---
In 2004, when Rick James said, chuckling sadly, that "cocaine is a hell of a drug," he was probably referring the role it had played in his personal life. What you'll learn in Saviano's book is that cocaine is responsible for more than just individual, emotional hell. Undeniably, cocaine is responsible, over many years, for a series of complex, now seemingly-endless sociopolitical infernos that have turned parts of Colombia, Mexico, and the United States into literal hellscapes of torture, enslavement, overdose, and a litany of other malfeasances practically unthinkable. It is with a narco's heart and mind that you must read this book. Benumbed, by the end, to decapitation, human trafficking, and corruption, you'll understood the book for what it truly is: a metaphorical cocaine itself - a record of cruelty so immense and depraved that it zombifies the senses. But much like with cocaine, you'll be compelled, like a bloodshot insomniac, to turn the next page, whether you want to or not.
—
Joel
Description
---
An electrifying, internationally bestselling investigation of the global cocaine trade now a series on Prime Video starring Andrea Riseborough, Dane DeHaan, and Gabriel Byrne, from the author of the #1 international bestseller Gomorrah
 
"Zero zero zero" flour is the finest, whitest available. It is also the nickname among narcotraffickers for the purest cocaine on the market. And it is the title of Roberto Saviano's unforgettable exploration of the inner workings of the global cocaine trade—its rules and armies, and the true depth of its reach into the world economy.
 
Saviano's Gomorrah, his explosive account of the Neapolitan mob, the Camorra, was a worldwide sensation. It struck such a nerve with the Camorra that Saviano has lived with twenty-four-hour police protection for more than eight years. During this time he has come to know law enforcement agencies and officials around the world. With their cooperation, Savaiano has broadened his perspective to take in the entire global "corporate" entity that is the drug trade and the complex money-laundering operations that allow it to function, often with the help of the world's biggest banks.
 
The result is a harrowing and groundbreaking synthesis of literary narrative and geopolitical analysis exploring one of the most powerful dark forces in our economy. Saviano tracks the shift in the cocaine trade's axis of power, from Colombia to Mexico, and relates how the Latin American cartels and gangs have forged alliances with crime syndicates across the globe. He charts the increasing sophistication of these criminal entities as they diversify into other products and markets. He also reveals the astonishing increase in the severity of violence as they have fought to protect and extend their power.
 
Saviano is a writer and journalist of rare courage and a thinker of impressive intellectual depth, able to see connections between far-flung phenomena and bind them into a single epic story. Most drug-war narratives feel safely removed from our own lives; Saviano offers no such comfort. Both heart-racing and eye-opening, ZeroZeroZero is an investigative story like none other.
 
Praise for ZerZeroZero:
 
"[Saviano] has developed a literary style that switches from vivid descriptions of human depravity to a philosophical consideration of the meaning of violence in the modern world. . . . Most important of all is the hope Saviano gives to countless victims of criminal violence by standing up to its perpetrators." —Financial Times
About the Author
---
Roberto Saviano was born in Naples in 1979. He is the author of Gomorrah: A Personal Journey into the Violent International Empire of Naples's Organized Crime System and has lived under police protection since its publication in 2006. His writing has appeared in the Washington Post, the New York Times, Der Spiegel, Die Zeit, and the Times (London).
Praise For…
---
The Economist: 
Taken as a whole, [ZeroZeroZero] is an angry rebuke to all those—traffickers and politicians alike—who perpetuate the violence….By reminding readers of the senseless suffering wrought by the cocaine trade, this book makes a powerful case for a new approach."
 
Financial Times: 
In articulating [his] cri de coeur, [Saviano] has developed a literary style that switches from vivid descriptions of human depravity to a philosophical consideration of the meaning of violence in the modern world. Indeed, when he revisits his work on Naples — the city where he was brought up and from which he is now excluded — his reflections soar into the realm of the poetic. But for me, most important of all is the hope Saviano gives to countless victims of criminal violence by standing up to its perpetrators, especially those from his home country.

Booklist (starred review): 
"With keen observation and deep probing, Saviano is an anthropologist and philosopher as much as a journalist. This is an epic account of how the modern cocaine trafficking business came to be and how widespread, how impenetrable, and how intertwined with international commerce and politics—and our everyday lives—it is."

Kirkus:
"This revealing new book, with a strong focus on Mexico's cartels, surges with fast-moving prose detailing the lives of drug lords and pushers, the inner workings of their violent world, and how their lucrative business (between $25 billion and $50 billion annually) affects all our lives…. Saviano describes the complexities of money laundering, how world banks help make it possible, and the many ways in which drugs are smuggled: in paintings, handcrafted doors, frozen fish, and more. Throughout, the author provides vivid stories of the lives of well-known drug bosses and their minions. Saviano says he can no longer look at a beach or a map without seeing cocaine, and many will share that view after reading this dark, relentless, hyperreal report."