Think and Grow Rich: The Classic Edition: The All-Time Masterpiece on Unlocking Your Potential--In Its Original 1937 Edition (Think and Grow Rich Series) (Paperback)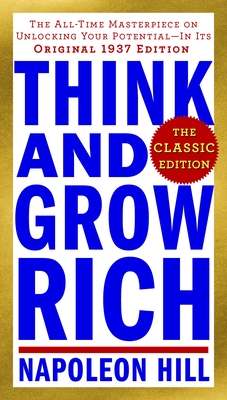 Description
---
An affordable, beautifully produced reproduction of the vintage text of Napoleon Hill's original landmark--this is the legendary program, just as it reached readers in 1937.

You want to dip into Think and Grow Rich ... you've heard about it from friends and coworkers ... you see people reading it ... and you feel it's time for a change in life.

But where do you start?

RIGHT HERE. Think and Grow Rich: The Classic Edition is a handsome, reliable, inexpensive, and compact volume that features the full 1937 text, just as it appeared on its first day of publication, before the book lit up millions of lives and became known around the world.

This is a volume you will want to read, reread, cherish--and then share with friends and loved ones. And it is priced so affordably that you can do just that.
About the Author
---
NAPOLEON HILL was born in 1883 in Wise County, Virginia. He worked as a secretary, a "mountain reporter" for a local newspaper, the manager of a coal mine and a lumber yard, and attended law school before becoming a journalist for Bob Taylor's Magazine--a job that led to his meeting steel magnate Andrew Carnegie, which changed the course of his life. Carnegie urged Hill to interview the greatest industrialists of the era in order to discover the principles that guided them to success. Hill took on the challenge, which lasted 20 years and formed the building block first for The Law of Success and later for Think and Grow Rich, the wealth-building classic and all-time bestseller of its kind. After a long career as an author, a magazine publisher, lecturer, and consultant to business leaders, the motivational pioneer died in 1970 in South Carolina.
Praise For…
---
"During the past twenty-five years I have been blessed with more good fortune than any individual deserves but I shudder to think where I'd be today, or what I'd be doing if I had not been exposed to Napoleon Hill's philosophy. It changed my life."
--Og Mandino, The Greatest Salesman in the World

"A detailed program for using the mind to attain one's desires … laid the template for the modern field of business motivation." –Mitch Horowitz, CNBC.com