The Broom of the System: A Novel (Penguin Ink) (Paperback)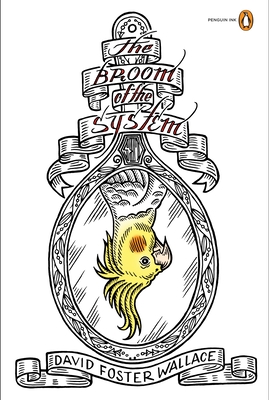 $18.00
Email or call for price.
Staff Reviews
---
I was astonished by this book. Between the story of the main character trying to find Lenore (both her grandmother and herself), her parrot who repeats scripture, her brother who refers to himself as the antichrist, and the sessions with "about the worst psychologist of all time", this book is nonstop fun. This book is witty, as well as absurd. I laughed out loud, and was alternately moved to introspection. I learned so much while reading because I constantly found myself lacking a good enough understanding to completely enjoy what Foster Wallace was delving into. I cannot wait to read this again to see what new experiences it has in store.
—
Kaitlyn
Description
---
The "dazzling, exhilarating" (San Francisco Chronicle) debut novel from one of this century's most groundbreaking writers

Published when David Foster Wallace was just twenty-four years old, The Broom of the System stunned critics and marked the emergence of an extraordinary new talent. At the center of this outlandishly funny, fiercely intelligent novel is the bewitching heroine, Lenore Stonecipher Beadsman. The year is 1990 and the place is a slightly altered Cleveland, Ohio. Lenore's great-grandmother has disappeared with twenty-five other inmates of the Shaker Heights Nursing Home. Her beau, and boss, Rick Vigorous, is insanely jealous, and her cockatiel, Vlad the Impaler, has suddenly started spouting a mixture of psycho-babble, Auden, and the King James Bible. Ingenious and entertaining, this debut from one of the most innovative writers of his generation brilliantly explores the paradoxes of language, storytelling, and reality.
About the Author
---
David Foster Wallace (1962–2008) wrote what would become his first novel, The Broom of the System, as his senior English thesis at Amherst College. He received an MFA from the University of Arizona in 1987 and briefly pursued graduate work in philosophy at Harvard. His second novel, Infinite Jest, was published in 1996. Wallace taught creative writing at Emerson College, Illinois State University, and Pomona College and published the story collections Girl with Curious Hair, Brief Interviews with Hideous Men, and Oblivion and the essay collections A Supposedly Fun Thing I'll Never Do Again and Consider the Lobster. He was awarded the MacArthur Fellowship, a Lannan Literary Award, and a Whiting Writers' Award and served on the Usage Panel for The American Heritage Dictionary of the English Language. His last novel, The Pale King, was published posthumously in 2011.
Praise For…
---
"Daring, hilarious... a zany picaresque adventure of contemporary America run amok." —
The New York Times
"Wonderful... a cathartic experience with lots of laughs and lots of deeper meanings." —The Washington Post Book World