The Watchers: The Rise of America's Surveillance State (Paperback)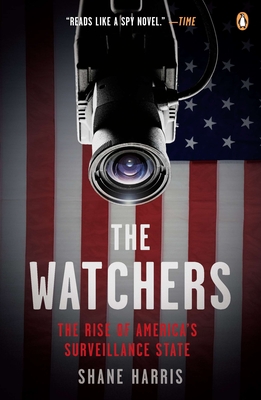 $17.00

Special Order - Subject to Availability
Description
---
An explosive look at the domestic agencies charged with spying on all of us

Given recent terrorist events in the U.S. and the document leaks by NSA whistleblower Edward Snowden, The Watchers is more timely than ever, drawing on access to political and operational insiders to create a brilliant exposé of why and how the American government spies on its own citizens. Born in the wake of the 1983 massacre of 241 Marines in Beirut, the domestic surveillance program introduced by Ronald Reagan's national security advisor, John Poindexter, to coordinate intelligence on terrorists has claimed billions of government dollars. Despite the cost, it has failed in its mission to identify new threats. But as Harris shows, it has provided the government with a tool for the electronic surveillance of Americans that has ushered in an age of constitutionally questionable intrusion into the lives of every citizen.
About the Author
---
Shane Harris writes about electronic surveillance, intelligence, and counterterrorism for National Journal.
Praise For…
---
"An absorbing look at modern spying technology and how it impacts average Americans."
-Booklist

"Harris displays an exquisite understanding of the intricacies of his topic and a remarkable sensitivity to the genuine concerns of the watchers and their critics.... A sharply written, wise analysis of the complex mashup of electronic sleuthing, law, policy and culture."
-Kirkus Reviews

"The Watchers reads like a thriller, and the story is sadly on the mark in describing our limited oversight of the government's surveillance powers. The nation needs to do better, and Harris' book is rich background to that task."
-Gregory F. Treverton, Director, Center for Global Risk and Security, RAND Corporation

"This is an astonishingly detailed, well-researched narrative. It tells the story of how, over the past two decades, U.S. officials developed the capability to put together massive amounts of information about any individual they choose to watch."
-James Mann, author of Rise of the Vulcans