The Waldorf Astoria Bar Book (Hardcover)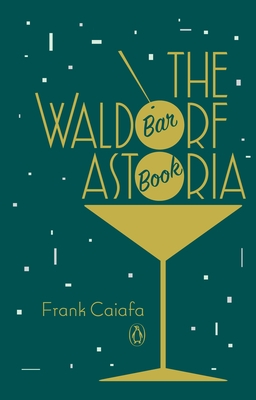 $25.00
Not Available In-Store - Usually Ships from Warehouse in 1-5 Days
Staff Reviews
---
This a bartending guide for people who want to throw fancier house parties than their friends do. Just having a copy in your house (if I may suggest: next to a cocktail shaker and a bottle of vermouth) will make you seem more sophisticated. because nothing is more sophisticated than getting old-timey lit.
All the classics are right here: martinis, manhattans, margaritas, all as they were meant to be poured. You''ll also find obscure cocktails from the sepia-and-sherry-stained depths of history, with flavors as whimsical as their names. Two or three of these concoctions and you'll feel as fried as Fitzgerald -- or perhaps more pickled than Parker.
And if promises of highfalutin' insobriety don't muddle your mint, quite a few of the recipes come with historical anecdotes to fully immerse you in the habits and customs of the time. Perhaps it is slightly debauched to casually read a bartending guide like you would a Farmer's Almanac, but your snazzy-dressin', gin-swillin' forebears would be proud.
—
Nick
Description
---
Essential for the home bar cocktail enthusiast and the professional bartender alike

"The textbook for a new generation." —Jeffrey Morgenthaler, author of The Bar Book

"A true classic in its own right . . . that will be used as a reference for the next 100 years and more." —Gaz Regan, author of The Joy of Mixology

2017 JAMES BEARD FOUNDATION BOOK AWARD NOMINEE: BEVERAGE

2017 SPIRITED AWARD® NOMINEE: BEST NEW COCKTAIL & BARTENDING BOOK

Frank Caiafa—bar manager of the legendary Peacock Alley bar in the Waldorf Astoria—stirs in recipes, history, and how-to while serving up a heady mix of the world's greatest cocktails. Learn to easily prepare pre-Prohibition classics such as the original Manhattan, or daiquiris just as Hemingway preferred them. Caiafa also introduces his own award-winning creations, including the Cole Porter, an enhanced whiskey sour named for the famous Waldorf resident.

Each recipe features tips and variations along with notes on the drink's history, so you can master the basics, then get adventurous—and impress fellow drinkers with fascinating cocktail trivia. The book also provides advice on setting up your home bar and scaling up your favorite recipe for a party.

Since it first opened in 1893, the Waldorf Astoria New York has been one of the world's most iconic hotels, and Peacock Alley its most iconic bar. Whether you're a novice who's never adventured beyond a gin and tonic or an expert looking to expand your repertoire, The Waldorf Astoria Bar Book is the only cocktail guide you need on your shelf.
About the Author
---
Frank Caiafa was the bar manager of the highly celebrated Peacock Alley and La Chine restaurants at The Waldorf Astoria from 2005 until its recent closure. His inventive use of house-made infusions, liqueurs and fresh ingredients was a torchbearer for cocktail culture in NYC. Caiafa's hospitality consulting and management enterprise, Handle Bars NYC/Global Inc., has been called upon for its expertise in projects both nationally and abroad. His topical writing and personal recipes have been published in the New York Times, Wine Enthusiast, and Time Out New York, among other publications.
Praise For…
---
2017 JAMES BEARD FOUNDATION BOOK AWARD NOMINEE: BEVERAGE

2017 SPIRITED AWARD® NOMINEE: BEST NEW COCKTAIL & BARTENDING BOOK

"The textbook for a new generation."
—Jeffrey Morgenthaler, Bar Manager of Clyde Common (Portland, Oregon) and author of The Bar Book: Elements of Cocktail Technique

"A must. Mixologists take note: one of the world's rarest, most classic cocktail books has been updated for the first time since 1934. The Waldorf Astoria Bar Book by Frank Caiafa, bar manager of the Waldorf chic Peacock Alley watering hole, is not merely a reissue but a celebration of all things imbibable, as well as the iconic hotel itself. . . . We're getting thirsty just writing about it."
—Maxim

"The Waldorf Astoria Bar Book will keep a cocktail-loving dad busy for a long time and show him not only how to craft serious drinks but how to prepare a home bar."
—Cigar Aficianado

"As bar manager of the Waldorf's Peacock Alley, Caiafa is the gatekeeper to many of history's oldest cocktail recipes and in a sense, an usher into the ways we will drink them in the future."
—Town and Country

"The Waldorf Astoria Bar Book, along with Cole Porter's "You're the Top" (written there) and Veal Oscar (invented there), counts among the hotel's cultural legacies."
—Gotham

"The instructions are as straightforward as the tales behind the concoctions are lively, meandering, and inviting. Caiafa is neither a mad scientist nor a cop enforcing the correct proportions of a martini. He insists that the best drink is the one made the way you like it. . . . A book steeped in history but delivered in a fresh and inviting new format."
—Library Journal (starred review)

"Frank has done the un-doable. He has taken The Old Waldorf Astoria Bar Book and brought it completely up to date with this brand new tome that will, I predict, be hailed as a true classic in its own right, standing tall next to books such as Jim Meehan's PDT Cocktail Book, another volume that will be used as a reference for the next 100 years and more."
—Gaz Regan, author of The Joy of Mixology and cocktail columnist

"Anyone who's ever made a drink will appreciate the countless hours Caiafa spent on top of his daily grind mixing, balancing, comparing and taking notes, putting together this impressive compendium one drink at a time. The Waldorf Astoria Bar Book is nothing short of a terrific recipe book I highly recommend to cocktail enthusiasts, and an essential reference manual professional bartenders will be using for years to come."
—Martin Corriveau, justcocktails.org