The Secret History of Las Vegas: A Novel (Paperback)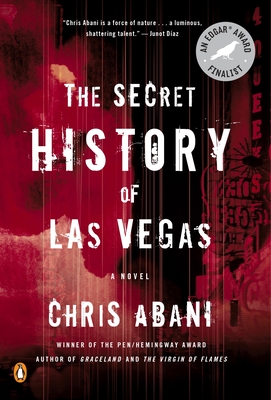 $16.00
Not Available In-Store - Usually Ships from Warehouse in 1-5 Days
Staff Reviews
---
Dragging readers through a bleak and violent terrain works much better if the story has faith in its characters and belief in some kind of possible redemption. Displaying the worst humanity has to offer while maintaining that glint of hope is what author Chris Abani sets out to do in The Secret History of Las Vegas. The set up is that the bodies of homeless men are piling up and Detective Salazar is determined to solve this case before his retirement. The primary suspects are conjoined twins named Fire and Water who are brought to Dr Singh to study, though it becomes immediately clear he has his own demons hiding in the closet. Part mystery, part apartheid and cold war history lesson, part meditation on psychopathy, and even part buddy cop movie, this book is at once gripping and haunting and darkly funny.
—
Danny's Staff Picks
Description
---
A gritty, riveting, and wholly original murder mystery from PEN/Hemingway Award-winning author and 2015 Edgar Awards winner Chris Abani

Before he can retire, Las Vegas detective Salazar is determined to solve a recent spate of murders. When he encounters a pair of conjoined twins with a container of blood near their car, he's sure he has apprehended the killers, and enlists the help of Dr. Sunil Singh, a South African transplant who specializes in the study of psychopaths. As Sunil tries to crack the twins, the implications of his research grow darker. Haunted by his betrayal of loved ones back home during apartheid, he seeks solace in the love of Asia, a prostitute with hopes of escaping that life. But Sunil's own troubled past is fast on his heels in the form of a would-be assassin.

Suspenseful through the last page, The Secret History of Las Vegas is Chris Abani's most accomplished work to date, with his trademark visionary prose and a striking compassion for the inner lives of outsiders.
About the Author
---
Chris Abani is the acclaimed author of GraceLand and The Virgin of Flames. He is the recipient of a Guggenheim Fellowship, the Hemingway/PEN Prize, the PEN Beyond the Margins Award, the Hurston Wright Award, and a Lannan Literary Fellowship, among many honors. Born in Nigeria, he is currently a Board of Trustees Professor of English at Northwestern University. He lives in Chicago.
Praise For…
---
Praise for The Secret History of Las Vegas:

"[A]n unsettling and complex entanglement of outsiders, freak shows, secret government experiments into mental illness, racism, sexual exploitation and fighting dwarfs….What lifts the novel is its energy, the audacity of Abani's imagination, and most all the breadth of vision."—The New York Times Book Review

"The Secret History of Las Vegas is not your standard crime novel....It's Tony Hillerman as filtered through J. M. Coetzee, a moving, strange and savagely funny book."—Los Angeles Times

"The Secret History of Las Vegas brings an admirably global perspective to the crime novel. Every noir needs a victim of circumstance, but here the circumstances are the military-industrial complex and state-sponsored racism."—The Washington Post

"Abani's latest is not an ordinary crime novel....Everyone is fucked."—The New Inquiry

"An intricate braid of story strands, enriched by vivid descriptions, intriguingly dysfunctional characters, and abundant metaphors. Expect the unexpected."—Booklist

"Lambent prose lifts this offbeat crime novel from PEN/Hemingway Award-winner [Chris] Abani."—Publishers Weekly

"[I]n this grim but beautifully written tale…Abani creates vivid metaphors not just with his characters, but also with a drowned town emerging from the waters of Lake mead, a ghost town that hosts the Carnival of Losr Souls, and the city of Las Vegas, which celebrates the dark, the hidden and the grotesque."—Kirkus  (starred review)

"[A] psychological, literary thrill ride with a little noir sprinkled in to keep readers from going over the edge. Abani reveals the dark sides of all his characters while at the same time painting them in a sympathetic light, resulting in a beautifully written examination of the human condition—and the depths we will go to justify our actions."—The Gazette
 
Praise for Chris Abani:

"Chris Abani might be the most courageous writer working right now. There is no subject matter he finds daunting, no challenge he fears. Aside from that, he's stunningly prolific and writes like an angel. If you want to get at the molten heart of contemporary fiction, Abani is the starting point."—Dave Eggers, author of The Circle

"Abani is a force to be reckoned with, a world-class novelist and poet."—Russell Banks, author of Lost Memory of Skin

"Abani has the energy, ambition and compassion to create a novel that delineates and illuminates a complicated, dynamic, deeply fractured society."—Los Angeles Times

"Ambitious…[GranceLand is] a kind of small miracle."—John Freeman, The Atlanta Journal-Constitution

"[The Secret History of Las Vegas] is An intricate braid of story strands, enriched by vivid descriptions, intriguingly dysfunctional characters, and abundant metaphors. Expect the unexpected."—Booklist

"[I]n this grim but beautifully written tale…Abani creates vivid metaphors not just with his characters, but also with a drowned town emerging from the waters of Lake mead, a ghost town that hosts the Carnival of Losr Souls, and the city of Las Vegas, which celebrates the dark, the hidden and the grotesque."—Kirkus  (starred review)