Lexicon: A Novel (Paperback)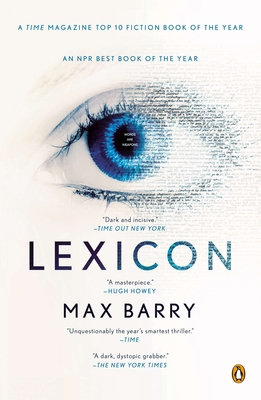 List Price: $17.00
Our Price: $16.00
(Save: $1.00 6%)
Staff Reviews
---
"Sticks and stones may break my bones, but words will never hurt me" — not so in Max Barry's creative new thriller! In Lexicon words have power: the power to hurt, the power to control, the power to manipulate, and a shadowy group known as "the poets" hold all that power. What follows is a path of devastation we can't even imagine — but Barry can. A fantastic, unusual read!
—
LAUREN'S STAFF PICKS
July 2013 Indie Next List
---
"Max Barry's newest novel manages to be a gripping, page-turning thriller as well as a phenomenally intelligent dissertation on language's raw, neurological power. Barry manages to maintain a blistering pace inside an ingenious, complex plot structure with seeming ease while he takes the time to explore conspiracy theories, intense paranoia, privacy concerns in an internet era, and countless other frightening ideas for your brain to chew on long after the book is over. Lexicon is simultaneously brainy and muscular, like a Heisman trophy winner who just happens to work as a semiotics professor on the side."
— Hank Stephenson, Flyleaf Books, Chapel Hill, NC
Description
---
Stick and stones break bones. Words kill.

They recruited Emily Ruff from the streets. They said it was because she's good with words.

They'll live to regret it.

They said Wil Parke survived something he shouldn't have. But he doesn't remember.

Now they're after him and he doesn't know why.

There's a word, they say. A word that kills.

And they want it back . . . 


"Best thing I've read in a long time . . . a masterpiece." —Hugh Howey, New York Times bestselling author of Wool
About the Author
---
Max Barry is the author of four previous novels, Syrup, Jennifer Government, Company, and Machine Man. He lives in Melbourne, Australia.
Praise For…
---
A New York Times Summer Beach Read
An Amazon Best Science Fiction & Fantasy Pick June 2013
A Best of June iBookstore Pick
A Time Magazine "What to Read Now" Pick
A Huffington Post Best Book of Summer 2013
A Salon "Summer's Best Reads"
A Hollywood Reporter "Buzzy Books for Hollywood's Reading List"
A Pittsburgh Post Gazette Beach Read
A Kirkus Ten Best Novels for Summer Reading 2013

"A dark, dystopic grabber in which words are treated as weapons, and the villainous types have literary figures' names. Plath, Yeats, Eliot and Woolf all figure in this ambitious, linguistics-minded work of futurism."
—Janet Maslin, New York Times
 
"Imagine, if you will, a secret group of people called Poets who have the power to control others simply by speaking to them. Barry has, and the result is an extraordinarily fast, funny, cerebral thriller."
—Time Magazine
 
"Imagine blending the works of Neal Stephenson with Michael Chabon and the end result would come close to the world envisioned by Barry. The words brilliant and exemplary aren't adequate enough to convey the amazing craft of Lexicon."
—Associated Press
 
"A clever blend of sci-fi and thriller, with touches of romance and humor… persuaded me anew that words are, indeed, the bomb."
—Dallas Morning News

"It's a pitch-perfect thriller, a jetpack of a plot that rocketed me from page one to page 400 in a single afternoon, and it kept me guessing right up to the end. Imagine Dan Brown written by someone a lot smarter and better at characterization and at hand-waving the places where the science shades into science fiction, and you've got something like Lexicon."
—Cory Doctorow, Boingboing.net
 
"[A] speedy, clever, dialogue-rich thriller."
—Salon
 
"A crazily inventive conspiracy thriller."
—io9.com

"Brazen and brilliant"
—The Wichita Eagle
 
"Mind-bending... an action novel that nicely exercises the brain as well as the heart rate."
—Shelf Awareness
 
"A large helping of both action and thought… anyone who knows 1984 will remember the fanger of allowing people to love each other—but Barry handles it with skill."
—Infodad.com
 
"An absolutely first-rate, suspenseful thriller with convincing characters who invite readers' empathy and keep them turning pages until the satisfying conclusion."
—Booklist (starred)
 
"A scary and satisfying blend of thriller, dystopia, and horror."
—Library Journal
 
"An up-all-night thriller for freaks and geeks who want to see their wizards all grown up in the real world and armed to the teeth in a bloody story."
—Kirkus (starred)
 
"[An] ambitious satirical thriller… amuses as much as it shocks."
—Publishers Weekly
 
"The sort of thriller that pricks real-world anxieties about privacy and coercion while rushing on with an outlandish clockwork plot.  Lexicon's clockwork is excellent, too: The book succeeds largely through Barry's skill in managing his reader and his plot, suspending disbelief by intercutting a pair of storylines until they inevitably intersect.  He always chooses immersion over exposition, letting his reader feel his way through the Chomskian mix of surveillance-society paranoia and linguistic geekiness."
—Philadelphia City Paper
 
"I bid you, read this book… Not that much of anything is certain in this blistering literary thriller. Lexicon twists and turns like a lost language, creating tension and expectations, systematically suggesting and then severing connections."
—Tor.com
 
"About as close you can get to the perfect cerebral thriller: searingly smart, ridiculously funny, and fast as hell. Lexicon reads like Elmore Leonard high out of his mind on Snow Crash."
—Lev Grossman, New York Times bestselling author of The Magicians and The Magician King
 
 "Lexicon grabbed me with the opening lines, and never let go. An absolutely thrilling story, featuring an array of compelling characters in an eerily credible parallel society, punctuated by bouts of laugh-out-loud humor."
—Chris Pavone, New York Times bestselling author of The Expats
 
"Dazzling and spectacularly inventive. A novel that jams itself sideways into your brain and stays there."
—Mike Carey, author of The Devil You Know
 
"I don't know how you could craft a better weekend read than this novel of international intrigue and weaponized Chomskian linguistics. It's the perfect mix of philosophical play and shotgun-inflected chase scenes. Like someone let Grant Morrison loose on the Bourne identity franchise."
—Austin Grossman, author of Soon I Will be Invincible
 
"Insanely good.  Dark and twisted and sweet and humane all at once."
—Lauren Beukes, author of Zoo City and The Shining Girls
 
"Best thing I've read in a long, long time."
—Hugh Howey, New York Times bestselling author of Wool