The Boys in the Boat: Nine Americans and Their Epic Quest for Gold at the 1936 Berlin Olympics (Paperback)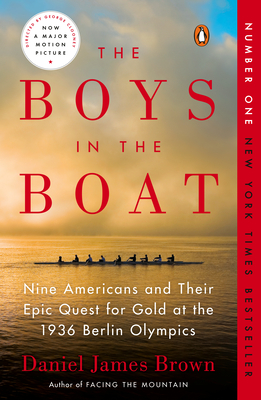 $18.00
Not Available In-Store - Usually Ships from Warehouse in 1-5 Days
Staff Reviews
---
This book will take you back to a time when sport wasn't about a big pay check, "enhancing " your performance, or product endorsements. The boys in the boat rowed for the pure love of rowing and the joy of being the best at what they did. This is a "feel good" book without being maudlin or cloying. The nine boys overcome the challenges of the Depression, take on the Ivy League colleges back East, and finally meet Hitler's minions at the 1936 Olympics. It is a very American book. Small town boys making it good! I smiled and "pulled" for these young men throughout this uplifting satisfying read. 
— WALT'S STAFF PICKS
July 2013 Indie Next List
---
"n the early 1930's, nine young University of Washington students are part of the rowing crew striving to achieve the final pick to become the team to represent the USA at the 1936 Olympic Games in Berlin as Hitler brazenly builds his Third Reich. Fiercely determined by the hard times of the Great Depression, this is an emotional story of the crew and those who put their trust in them as they put their hearts into 'sculpting"
— Carol Hicks, Bookshelf At Hooligan Rocks, Truckee, CA
Description
---
The #1 New York Times–bestselling story about the American Olympic rowing triumph  in Nazi Germany—from the author of Facing the Mountain.

For readers of Unbroken, out of the depths of the Depression comes an irresistible story about beating the odds and finding hope in the most desperate of times—the improbable, intimate account of how nine working-class boys from the American West showed the world at the 1936 Olympics in Berlin what true grit really meant.

It was an unlikely quest from the start. With a team composed of the sons of loggers, shipyard workers, and farmers, the University of Washington's eight-oar crew team was never expected to defeat the elite teams of the East Coast and Great Britain, yet they did, going on to shock the world by defeating the German team rowing for Adolf Hitler. The emotional heart of the tale lies with Joe Rantz, a teenager without family or prospects, who rows not only to regain his shattered self-regard but also to find a real place for himself in the world. Drawing on the boys' own journals and vivid memories of a once-in-a-lifetime shared dream, Brown has created an unforgettable portrait of an era, a celebration of a remarkable achievement, and a chronicle of one extraordinary young man's personal quest.
About the Author
---
Daniel James Brown is the #1 New York Times bestselling author of The Boys in the Boat, The Indifferent Stars Above, and Under a Flaming Sky. He has taught writing at San Jose State University and Stanford University. He lives outside Seattle.
Praise For…
---
"For those who like adventure stories straight-up, THE BOYS IN THE BOAT… is this year's closest approximation of Unbroken….It's about the University of Washington's crew team: "Nine working-class boys from the American West who at the 1936 Olympics showed the world what true grit really meant." —New York Times

"If you imagined a great regatta of books about rowing, then Brown's BOYS IN THE BOAT certainly makes the final heat…."—Boston Globe

"The astonishing story of the UW's 1936 eight-oar varsity crew and its rise from obscurity to fame,…The individual stories of these young men are almost as compelling as the rise of the team itself. Brown excels at weaving those stories with the larger narrative, all culminating in the 1936 Olympic Games…A story this breathtaking demands an equally compelling author, and Brown does not disappoint. The narrative rises inexorably, with the final 50 pages blurring by with white-knuckled suspense as these all-American underdogs pull off the unimaginable."—The Seattle Times

"Cogent history…, and a surprisingly suspenseful tale of triumph."—USA Today

"This riveting tale of beating the odds (and the Germans) at the 1936 Olympics is a rousing story of American can-do-ism. It's also a portrait of the nine boys who first rowed together for the University of Washington, and of the one in particular who made the sport his family and his home." —Parade

"This riveting and inspiring saga evokes that of Seabiscuit…Readers need neither background nor interest in competitive rowing to be captivated by this remarkable and beautifully crafted history. Written with the drama of a compelling novel, it's a quintessentially American story that burnishes the esteem in which we embrace what has come to be known as the Greatest Generation."—Associated Press

"A stirring tale of nine Depression-era athletes beating the odds and their inner demons to compete at the 1936 Berlin Olympics. You can Google the result and spoil the sport, but that won't dull the many pleasures in Daniel James Brown's colorful, highly readable celebration of a grueling collegiate challenge."—Bloomberg News

"Brown's book juxtaposes the coming together of the Washington crew team against the Nazis' preparations for the Games, weaving together a history that feels both intimately personal and weighty in its larger historical implications. This book has already been bought for cinematic development, and it's easy to see why: When Brown, a Seattle-based nonfiction writer, describes a race, you feel the splash as the oars slice the water, the burning in the young men's muscles and the incredible drive that propelled these rowers to glory." —Smithsonian Magazine

   "Those who enjoy reading about Olympic history or amateur or collegiate sports will savor Brown's superb book…"
—Library Journal (Starred)

  "[Brown] offers a vivid picture of the socioeconomic landscape of 1930s America (brutal), the relentlessly demanding effort required of an Olympic-level rower, the exquisite brainpower and materials that go into making a first-rate boat, and the wiles of a coach who somehow found a way to, first beat archrival University of California, then conquer a national field of qualifiers, and finally, defeat the best rowing teams in the world. A book that informs as it inspires."
—Booklist (Starred)

"An evocative, cinematic prose… [Brown] makes his heroes' struggle as fascinating as the best Olympic sagas."
—Publishers Weekly

"The story deserves a more visible place in history, and Brown has brought it to light in a way that will appeal to readers regardless of their knowledge of our interest in rowing or wooden boats.  It's a story about universal human values: striving for excellence and the triumph of teamwork."—WoodenBoat Magazine

"Every sport needs its laureate. With THE BOYS IN THE BOAT, crew has found its voice in Daniel James Brown, who tells a thrilling, heart-thumping tale of a most remarkable band of rowing brothers who upstaged Adolf Hitler at the 1936 Olympics.  Well-told history, packed with suspense and a likable bunch of underdogs at the heart of an improbable triumph."—Timothy Egan, author of The Worst Hard Time

"For years I've stared and wondered about the old wooden boat resting on the top rack of the UW boathouse. I knew the names of the men that rowed it but never really knew who they were. After reading this book, I feel like I got to relive their journey and witness what it was truly like earning a seat in that Pocock shell. The passion and determination showed by Joe and the rest of the boys in the boat are what every rower aspires to. I will never look at that wooden boat the same again."—Mary Whipple, Olympic gold medal–winning coxswain, women's eight-oared crew, 2008 and 2012

"THE BOYS IN THE BOAT is not only a great and inspiring true story; it is a fascinating work of history."
—Nathaniel Philbrick, author of Mayflower and In the Heart of the Sea

"In 1936 nine working-class American boys burst from their small towns into the international limelight, unexpectedly wiping the smile off Adolph Hitler's face by beating his vaunted German team to capture the Olympic gold medal.  Daniel James Brown has written a robust, emotional snapshot of an era, a book you will recommend to your best friends."
—James Bradley, author of Flags of our Fathers and Flyboys

"THE BOYS IN THE BOAT is an exciting blend of history and Olympic sport. I was drawn in as much by the personal stories as I was by the Olympic glory. A must read for anyone looking to be inspired!"
—Luke Mcgee, USA Rowing Men's National Team Coach

"I really can't rave enough about this book.  Daniel James Brown has not only captured the hearts and souls of the University of Washington rowers who raced in the 1936 Olympics, he has conjured up an era of history.  Brown's evocation of Seattle in the Depression years is dazzling, his limning of character, especially the hardscrabble hero Joe Rantz, is novelistic, his narration of the boat races and the sinister-exalted atmosphere of Berlin in 1936 is cinematic.  I read the last fifty pages with white knuckles, and the last twenty-five with tears in my eyes.  History, sports, human interest, weather, suspense, design, physics, oppression and inspiration—THE BOYS IN THE BOAT has it all and Brown does full justice to his terrific material.  This is Chariots of Fire with oars."
—David Laskin, author of The Children's Blizzard  and  The Long Way Home

"A lovingly crafted saga of sweat and idealism that raised goosebumps from the first page. I was enthralled by the story's play of light and shadow, of mortality and immortality, and its multidimensional recreation of the pursuit of excellence. This meditation on human frailty and possibility sneaks up on you until it rushes past with the speed of an eight-oared boat." —Laurence Bergreen, author of Columbus and Over the Edge of the World

"Daniel Brown's book tells the dramatic story of the crew that set the stage for Seattle emerging as a world-class city. Their lives define the tradition that is still University of Washington rowing today."
—Bob Ernst, director of rowing, University of Washington