The Truth About the Harry Quebert Affair: A Novel (Paperback)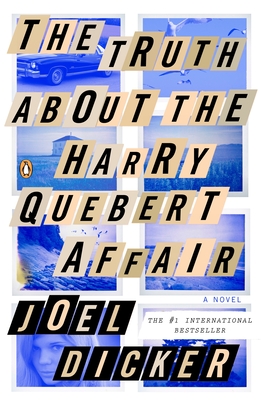 $18.00

Not Available In-Store - Usually Ships from Warehouse in 1-5 Days
Staff Reviews
---
The Truth About the Harry Quebert Affair starts slowly, but gathers steam at an exquisite pace. Reading this, I was never quite sure of my footing--who is Harry Quebert? Who is the bad guy in a town filled with bad guys? And who killed Nola Kellergan back in 1975? Throughout the twists and turns of this mesmerizing debut I was reminded both of Twin Peaks and Winesburg, Ohio by Sherwood Anderson. If you like unpredictable mysteries and books that explore the dark corners and seedy underbellies of small towns, then don't miss Joel Dicker's fantastic new book!
—
LAUREN'S STAFF PICKS
June 2014 Indie Next List
---
"What at first glance appears to be another book by a promising young writer about the challenges of being a promising young writer quickly turns into a thrilling murder mystery. A blocked and struggling author sets out to prove his mentor's innocence, and as the narrative slides back and forth through time, the truth proves to be as elusive as the innocence of any of the characters. In the end, everyone is guilty -- not in a Murder on the Orient Express kind of way -- but in the dozens of small ways the denizens of any town can be complicit in wrongdoings. A compelling read!"
— Catherine Weller, Weller Book Works, Salt Lake City, UT
Description
---
Instant New York Times Bestseller

"Unimpeachably terrific." —The New York Times Book Review

For fans of Ruth Ware, Shari Lapena, and Donna Tartt: a twisty, fast-paced, cinematic literary thriller, and an ingenious book within a book, by the #1 internationally bestselling author of The Enigma of Room 622

Marcus Goldman is riding high. The twenty-eight-year-old writer is the new darling of American letters, whose debut novel has sold two million copies. But when it comes time to produce a new book, he is sidelined by a crippling case of writer's block. He travels to Somerset, New Hamprshire, to see his mentor, Harry Quebert, one of the country's most respected writers, hoping to jar his creative juices as his publisher's deadline looms. But Marcus's plans are upended when Harry is sensationally implicated in a cold-case murder: Fifteen-year-old Nola Kellergan went missing in 1975, and Harry admits to having had an affair with her. Following a trail of clues through the backwoods and isolated beaches of New Hampshire, Marcus must answer two questions, which are mysteriously connected: Who killed Nola Kellergan? And how do you write a book to save someone's life?

Named a Best Book of the Summer by CBS This Morning, Us Weekly, The Hollywood Reporter, Minneapolis Star Tribune, Parade, Houston Chronicle, New York Post, Tampa Bay Times, Milwaukee Journal Sentinel, and The Daily Beast

Now a 10-part TV series on EPIX, starring Patrick Dempsey, Ben Schnetzer, Damon Wayans Jr., and Virginia Madsen
About the Author
---
Joel Dicker was born in 1985 in Geneva, Switzerland, where he later studied law. He spent childhood summers in New England, particularly in Stonington and Bar Harbor, Maine. The Truth About the Harry Quebert Affair won three French literary prizes, including the Grand Prix du Roman from the Académie Française, and was a finalist for the Prix Goncourt. It has sold more than two million copies across Europe. Dicker lives in Geneva.
Praise For…
---
"A playful, page-turning whodunit . . . If Norman Mailer had been accused of murder and Truman Capote had collaborated with Dominick Dunne on a tell-all about it, the result might have turned out something like this. Though I suspect this version may be funnier. . . . It's [Dicker's] light touch and engaging voice that make the writing so infectious." —Chelsea Cain, The New York Times Book Review

"The great American crime novel . . . A breakneck thriller." —Details

"A terrific read . . . Entertaining . . . Cleverly constructed . . . It's compelling, challenging, sometimes even funny. The characters are finely drawn. . . . It keeps you, as they say of movies, 'on the edge of your seat.' " —The Huffington Post

"A wonderful, fun, and boisterous read, a book with an uncanny ability to both fascinate and amuse you. Twists and turns and oddball characters make this a rollicking bullet-train of a novel." —Amazon.com, Best Book of the Month

"I haven't had a suspense novel surprise me like this one in a long time. Joël Dicker is a bright new star of suspense, and he proves his serious chops with this utterly thrilling, delightfully twisted, continually shocking novel. I can't wait to read what he writes next!" —Lisa Gardner, #1 New York Times bestselling author of Fear Nothing

"A dazzling thriller—stunningly original and brilliantly plotted, down to the very last twists. It's a murder mystery, a literary puzzle, and a love story, all ingeniously woven into a masterly novel of suspense. Joël Dicker is an enormous talent, and this book is extraordinary." —Linda Fairstein, New York Times bestselling author of Death Angel
 
"Talk about a web of treason and danger: This one unfolds with a relentless sense of urgency and pulse-pounding escapades, entertaining at every turn. Absolutely rousing." —Steve Berry, New York Times bestselling author of The King's Deception

"Planes, trains and automobiles: You'll see people reading this book everywhere. An amazing debut and wonderful summer read." —Michael Harvey, bestselling author of The Chicago Way

"Entertainingly pulled off . . . Enjoyable . . . It churns along at such a good clip and is rendered with such high emotion and apparent deep conviction that it's easy to see why it was a bestseller in Europe." —The Washington Post

"A highly entertaining mash-up of melodrama, metafiction and mystery [with] a slick page-turning plot." —Minneapolis Star Tribune

"Charmingly off-kilter . . . Sure-footed." —The Daily Beast

"[A] funny, plot-twisting mystery." —Women's Day, "New Favorites from the Women's Day Staff"

"Stunning . . . Fast-paced, tightly plotted . . . From page one, you'll be hooked on this fascinating mystery of love and deception." —National Examiner
 
"Smart and fun." —Houston Chronicle
 
"A clever, tightly plotted thriller with a comic edge." —Tampa Bay Times

"An ambitious, multilayered novel of suspense . . . This tale of fame, friendship, loyalty, and fiction versus reality moves at warp speed." —Publishers Weekly, starred review

"This sprawling, likable whodunit [is] obvious ballast for the summer's beach totes. . . . Dicker keeps the prose simple and the pace snappy in a plot that winds up with more twists than a Twizzler. . . . [An] entertaining debut thriller." —Kirkus Reviews

"Tantalizing . . . Compelling . . . There is a Twin Peaks–like fascination to the story of Nola Kellergan. . . . Readers are certain to be caught up in the ongoing drama of who killed Nola among the plethora of suspects." —Booklist