I'll Drink to That: A Life in Style, with a Twist (Paperback)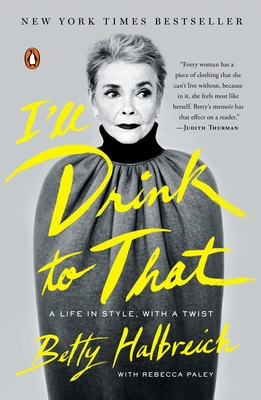 $18.00

Special Order - Subject to Availability
Staff Reviews
---
Books about fashion, especially when they are from an insider's perspective, are my not-so-guilty pleasure: I love reading lush descriptions of luxurious fabrics, unique cuts, and all the accessories one can drape on themselves. I also really love reading about gutsy broads, women who have forged their own path in life. I'll Drink to That combines both of my specific tastes! Betty Halbreich is the famous personal shopper at Bergdorf Goodman's, the arbiter of taste, friend, and occasional therapist for women of all shapes and incomes. She truly loves clothes and her ladies and this compulsively readable memoir is a testament to that. Betty writes like a trusted friend: chatty, honest, and brave, pulling no punches when it comes to baring her faults. She's one of the last great dames and her book should make her a familiar name to more than just those in-the-know. I'll drink to that!
—
LAUREN'S STAFF PICKS
Description
---
The stunning true story of Bergdorf Goodman's legendary personal shopper

Eighty-six-year-old Betty Halbreich is a true original who could have stepped straight out of Stephen Sondheim's repertoire. She has spent nearly forty years as the legendary personal shopper at Bergdorf Goodman, where she works with socialites, stars, and ordinary women off the street. She has helped many find their true selves through fashion, frank advice, and her own brand of wisdom. She is trusted by the most discriminating persons—including Hollywood's top stylists—to tell them what looks best. But Halbreich's personal transformation from cosseted young girl to fearless truth teller is the greatest makeover of her career.
About the Author
---
BETTY HALBREICH is the director of Solutions at Bergdorf Goodman.

REBECCA PALEY is the bestselling coauthor of several memoirs.
Praise For…
---
Praise for I'll Drink to That:
"Lena Dunham, creator of HBO's Girls, is now developing a series inspired by Ms. Halbreich's life. The impatient, however, can satisfy their curiosity more immediately with I'll Drink to That, the long-anticipated memoir in which Ms. Halbreich chronicles her life in the dressing room and beyond." —The Wall Street Journal

"Charming… An inspirational feminist tale." —People Magazine

"Tart, funny." —Entertainment Weekly

"Sartorial style becomes a philosophy of life in this spirited memoir…Halbreich comes across as sage and gracious as she narrates a life full of incident, taking us inside the fashion industry and one of its great institutions." —Publishers Weekly

"Every woman has a piece of clothing that she can't live without, because in it, she feels most like herself. Betty's memoir has that effect on a reader. Authentic style is a form of self-knowledge. And in that respect, I'll Drink To That is like Betty's famous three-way mirror. She sizes up her own life fearlessly, and in the process, not only helps you to diagnose your own flaws, but to embrace your own beauty." —Judith Thurman, author of National Book Award-winning Isak Dinesen: The Life of a Storyteller and Los Angeles Times Book Award-winning Secrets of the Flesh: A Life of Colette

 
Praise for Betty Halbreich:
"Betty was born to sail through people's lives telling them what to wear (and even what to do). The other day I overheard her chatting with a client, 'Oh, she's been my friend for thirty-five years, and she's only thirty.' Lines like that are good enough for George Cukor. The whole scanrio is. Maybe she's known that all these years. Fashion is not only about necessity but also a form of entertainment—and that is what Betty sells." 
—Isaac Mizrahi, fashion designer
"I would trust this woman with my life—closet!" 
—Joan Rivers, television personality
"...she's the go-to celebrity. She's also the most fun." 
—Patricia Field, costume designer for Sex & the City
"There's a pragmatic principle behind the way Betty dresses people. It's very inclusive. There's room for everyone in her process. [Betty] is able to be in the fashion world, but also take it down a peg at the same time." 
—Lena Dunham, writer and actress
"The fashion doctor is in....Even as designers and editors seem to be conspiring to lure women into their latest whims, Betty Halbreich is a scrupulously practical truth-teller. She considers it her job to protect women from clothes that are wrong for them. She takes pride in pushing the least expensive items she can find, when it's appropriate...A brassy Chicago native with a manner that's part Angela Lansbury and part Lucille Ball, Halbreich believes in taking chances with color and accessorizing lavishly." —
Bob Morris, New York