King of Spies: The Dark Reign of an American Spymaster (Paperback)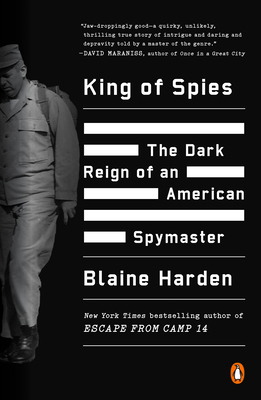 $17.00

Special Order - Subject to Availability
Description
---
The New York Times bestselling author of Escape from Camp 14 returns with the untold story of one of the most powerful spies in American history, shedding new light on the U.S. role in the Korean War, and its legacy

In 1946, master sergeant Donald Nichols was repairing jeeps on the sleepy island of Guam when he caught the eye of recruiters from the army's Counter Intelligence Corps. After just three months' training, he was sent to Korea, then a backwater beneath the radar of MacArthur's Pacific Command. Though he lacked the pedigree of most U.S. spies—Nichols was a 7th grade dropout—he quickly metamorphosed from army mechanic to black ops phenomenon. He insinuated himself into the affections of America's chosen puppet in South Korea, President Syngman Rhee, and became a pivotal player in the Korean War, warning months in advance about the North Korean invasion, breaking enemy codes, and identifying most of the targets destroyed by American bombs in North Korea.

But Nichols's triumphs had a dark side. Immersed in a world of torture and beheadings, he became a spymaster with his own secret base, his own covert army, and his own rules. He recruited agents from refugee camps and prisons, sending many to their deaths on reckless missions. His closeness to Rhee meant that he witnessed—and did nothing to stop or even report—the slaughter of tens of thousands of South Korean civilians in anticommunist purges. Nichols's clandestine reign lasted for an astounding eleven years.

In this riveting book, Blaine Harden traces Nichols's unlikely rise and tragic ruin, from his birth in an operatically dysfunctional family in New Jersey to his sordid postwar decline, which began when the U.S. military sacked him in Korea, sent him to an air force psych ward in Florida, and subjected him—against his will—to months of electroshock therapy. But King of Spies is not just the story of one American spy. It is a groundbreaking work of narrative history that—at a time when North Korea is threatening the United States with long-range nuclear missiles—explains the origins of an intractable foreign policy mess.
About the Author
---
Blaine Harden has served as The Washington Post's bureau chief in Northeast Asia, Eastern Europe, and Africa. He was a national correspondent for The New York Times and has contributed to The Economist, PBS Frontline, Time, and Foreign Policy. He is the author of The Great Leader and the Fighter Pilot; Escape From Camp 14, an international bestseller that has been published in 28 languages; A River Lost; and Africa: Dispatches from a Fragile Continent, which won a Pen American Center citation for a first book of non-fiction.
Praise For…
---
"A good yarn and a timely one — appearing as Americans are once again pondering the possibility of war with North Korea."
—Mary Louise Kelly, Washington Post

"Compellingly told."
—St. Louis Post-Dispatch

"[A] masterful work of narrative history."
—South China Morning Post

"A rip-roaring exposé . . . King of Spies is set in the 1940s and 50s, but the conundrum at its center is timeless: do the ends of effective espionage justify the actions of dangerous men employing dubious means? With 21st century America globally engaged in black operations, under questionable oversight, that question remains as pertinent today as ever." —Asia Times

"Provocative . . . a must-read."
—Library Journal (starred review)

"Harden's Nichols is both a victim and an exemplar of a war that 'most Americans never debated, let alone understood.'"
—Publishers Weekly

"An engrossing hidden history of wartime espionage, with elements of derring-do and moral barbarity. . . . [Harden] ably connects his ominous central figure to the larger mysterious, unresolved narrative of the Korean conflict....Fascinating."
—Kirkus Reviews

"Jaw-droppingly good — a quirky, unlikely, thrilling true story of intrigue and daring and depravity told by a master of the genre." 
—David Maraniss, author of Once in a Great City: A Detroit Story

"King of Spies is a dark story of espionage and evil by a wild American military spymaster in Korea, a tale both revelatory and tragic. Blaine Harden's superb book throws open a long-ignored chapter in the Korean War; a compelling and disturbing read, not to be missed."
—David E. Hoffman, author of The Billion Dollar Spy: A True Story of Cold War Espionage and Betrayal
 
"Blaine Harden has now produced a fascinating trilogy of stranger-than-fiction books about North Korea. His latest, King of Spies, is about a gay middle school dropout who was one of the few U.S. officials to predict the outbreak of the Korean War and whose espionage activities had a profound impact on the course of the war. You've probably never heard of Donald Nichols, but you'll never forget him after reading King of Spies."
—Barbara Demick, author of Nothing to Envy: Ordinary Lives in North Korea
 
"A thrilling real-life spy story told by a terrific writer."
—Tim Weiner, author of Legacy of Ashes: The History of the CIA
 
"Blaine Harden has done what no one else thought to do in seven decades: He's brought us the full, secret, astonishing story of one of the most improbably powerful characters in American history, and he has done so with crystalline writing and in jaw-dropping detail."  
—Steve Twomey, author of Countdown to Pearl Harbor: The Twelve Days to the Attack

"Many accounts of the Korean War are full of mystery, hinting at horrific crimes and large-scale covert operations. King of Spies pierces that mystery through the story of a remarkable American operative who took his mission to mind-boggling extremes.  The adventures that fill these pages, from bleak battlefields to the corridors of power, tell us much about how the world really works."
—Stephen Kinzer, author of Overthrow: America's Century of Regime Change from Hawaii to Iraq
 

Praise for The Great Leader and the Fighter Pilot:

"Blaine Harden has done more than anyone else to bring [North Korea] to a mass audience. . . . Thrilling stuff."
—The Washington Post

"A riveting book that makes the history of North Korea accessible to the general reader."
—Wall Street Journal

"An eminently readable picture of our most under-remembered war." 
—The Daily Beast

Praise for Escape From Camp 14:

"Harden's book, besides being a gripping story, unsparingly told, carries a freight of intelligence about this black hole of a country."
—Bill Keller, The New York Times

"A remarkable story."
—The Wall Street Journal

"A riveting new biography . . . If you want a singular perspective on what goes on inside the rogue regime, then you must read [this] story."
—CNN