The Prophet (A Penguin Classics Hardcover) (Hardcover)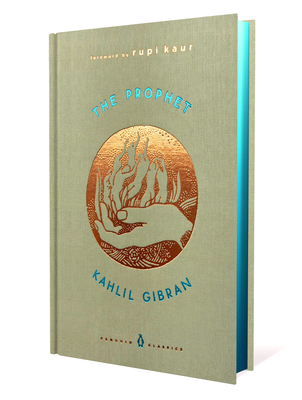 Staff Reviews
---
My first introduction to Mr Gibran was through the TV show History Detectives. The more they revealed about him the more I wanted to read his works. I fell in love with The Prophet from the minute I read it. Our narrator, Almustafa, speaks of many different aspects of life before he boards a ship headed back to the island he left 12 years ago. So many times reading this book I found that Gibran's words rang true for me. This is a book that I go back to again and again because it gives me peace. Once this book enters your life you wonder how you ever got along without it.
—
Heather G.
Description
---
"My all-time favorite collection of poems . . . [Gibran's] poetry always roots me in my humanity." --Rupi Kaur, #1 New York Times bestselling author of Milk and Honey, The Sun and Her Flowers, and Home Body

A stunning new hardcover edition--with a full linen case, copper stamping, turquoise gilded edges, and colored endpapers--of one of the world's most beloved and popular spiritual classics, featuring a new foreword by Rupi Kaur

The most famous work of spiritual fiction of the twentieth century, The Prophet is rooted in Kahlil Gibran's own experience as an immigrant and provides inspiration to anyone feeling adrift in a world in flux. As a prophet named Almustafa is about to board a ship to travel back to his homeland after twelve years in exile, he is stopped by a group of people who ask him to share his wisdom before he leaves. In twenty-eight poetic essays, he does so, offering profound and timeless insights on many aspects of life, including love, pain, friendship, family, beauty, religion, joy, sorrow, and death.

An immediate success when first published in 1923, The Prophet is a modern classic, having been translated into more than forty languages and sold more than ten million copies in the United States alone. The message it imparts, of finding divinity through love, made it the bible of 1960s culture and continues to touch hearts and minds across generations and national borders. This edition is illustrated with twelve of Gibran's famous visionary paintings and features a foreword by Rupi Kaur.

In the sweetness of friendship let there be laughter, and sharing of pleasures.
For in the dew of little things the heart finds its morning and is refreshed.
About the Author
---
Kahlil Gibran was born in Lebanon in 1883. In 1912 he settled in New York City and devoted himself to writing (in both Arabic and English) and to painting. His books have sold more than ten million copies in English alone and have won the love of readers all over the world. His mystical drawings and paintings were compared by Auguste Rodin to the work of William Blake. Gibran died in 1931.

Rupi Kaur (foreword) is the #1 New York Times bestselling author and illustrator of the poetry collections Milk and Honey, The Sun and Her Flowers, and Home Body, which together have sold more than four million copies and have been translated into more than thirty languages. Born in Punjab, India, she moved to Canada at the age of four and lives in Toronto.
Praise For…
---
"This book cracked my heart wide open. And I think it's going to do the same to yours. . . . I've read The Prophet more times than I can count. I've owned and given away dozens of copies. I have one packed permanently in my travel bag. . . . The Prophet, and the man behind it, freed the poet in me. . . . Almost a hundred years later, it still feels as fresh and as relevant as ever. Why have I read it dozens of times? Because it doesn't feel like reading. It feels like listening to my favorite song. . . . [Kahlil Gibran] is the conductor, the words are his orchestra, and he makes them dance off the page and land softly in your belly. . . . This book is not just for poetry lovers. It is for anyone wondering what this thing we call life is about. [It is] an anchor, a lifeline, and a friend." —Rupi Kaur, from the Foreword

"Cadenced and vibrant with feeling, the words of Kahlil Gibran bring to one's ears the majestic rhythm of Ecclesiastes. . . . If there is a man or woman who can read this book without a quiet acceptance of a great man's philosophy and a singing in the heart as of music born within, that man or woman is indeed dead to life and truth." —Chicago Post

"Exquisite . . . simply a masterpiece." —The Independent (London)

"Like most wisdom, most of what [Kahlil Gibran] has to tell is ancient, the possession of all men who have thought much and hard about fundamental things. . . . But on it all there is also the imprint of a rich and unusual personality. . . . Gibran offers no short-cuts to happiness, no easily mastered formulae for successful living. Essentially, he bids you look closely into your own heart and mind." —The New York Times