The Cheapest Nights (Paperback)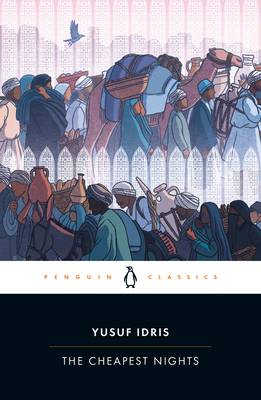 $18.00

Special Order - Subject to Availability
Description
---
From the "genius of the short story," a collection illuminating the lives of the Egyptian lower class by one of the most important and innovative voices of Egyptian literature

A Penguin Classic

One of Egypt's most acclaimed and well-known authors, Yusuf Idris is heralded as a "renovator and genius of the short story" whose signature stylistic device--the combination of literary and colloquial language à la Huckleberry Finn--transformed Arabic literature. The Cheapest Nights is a collection of some of his most important works, the title story of which follows a man who, unable to sleep, angrily meditates on the state of his life and the extreme poverty in which he finds himself. With compassion, astute observational skills, and biting humor, Idris explores the fraught lives of the Egyptian working class, all the while turning a critical eye on the power structures that oppress them. His collection of short stories, with a foreword by author Ezzedine C. Fishere, is a piercing exploration of power and religion, love and death.
About the Author
---
A physician as well as a writer, Yusuf Idris (1927-1991) was imprisoned for political activism under both Farouk and Nasser. For a time he was forced to retire from public view, but he emerged after the 1973 war, when he was appointed literary editor of Cairo's Al Ahram newspaper. His stories are powerful reflections of both the experiences of his own rebellious life and his concern with social injustice.

Ezzedine C. Fishere (foreword) is the author of eight Arabic novels, mostly depicting Egyptian social and political transformations. Two of his novels were nominated for the Arabic Booker Prize (2008 and 2011) and another work was turned into an Arabic TV series. His novel Embrace at Brooklyn Bridge, about identity construction and shifts, was translated to English (2017) and Italian (2019). The Egyptian Assassin, a novel on politics and violence, was published in English (2019). Other novels are being translated into English, French and Hebrew. A former diplomat, he now teaches Middle East politics and culture at Dartmouth College.

Wadida Wassef (translator) was born in Alexandria, Egypt in 1926 and taught English language and literature, as well as European history at Al-Nasr Girls' College. She began writing in the 1970s.
Praise For…
---
"Idris's imagination, craft, and emotional insight make this a must-read" 
—Publishers Weekly, starred review