The Goldblum Variations: Adventures of Jeff Goldblum Across the Known (and Unknown) Universe (Paperback)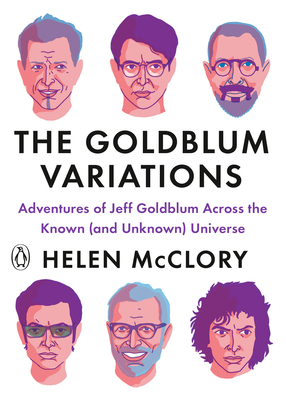 $12.00
Email or call for price.
Description
---
"Fantastic!" —the actual Jeff Goldblum (for real)

The essential companion for any fan of Jeff Goldblum, Hollywood's most beloved and otherworldly icon.

You like Jeff Goldblum. We like Jeff Goldblum. Helen McClory really likes Jeff Goldblum.

So lie back, Jurassic Park-style, and prepare to enjoy The Goldblum Variations, a collection of stories, musings, puzzles, and games based on the one and only Jeff Goldblum as he (and alternate versions of himself) travels through the known (and unknown) universe in a mighty celebration of weird and wonderful Goldbluminess.

Maybe he's cresting the steep bluffs of a mysterious planet on an epic treasure hunt, maybe he's wearing a nice sweater, maybe he's reading from this very book. The possibilities are endless. Treat yourself . . . because all that glitters is Goldblum.
About the Author
---
Helen McClory is a writer from Scotland. She has an undergraduate MA in English and Classical Studies from the University of St. Andrews, an MA in Creative Writing from the University of New South Wales, and a PhD in Creative Writing from the University of Glasgow. She has lived in Sydney, Australia and New York City and currently resides in Edinburgh. While in NYC, she worked as a dog walker and had the distinction of walking Lou Reed's dog. Most recently, she volunteered on a horse farm in central Portugal, despite finding horses slightly alarming. Her other interests include cooking and absurdism.
Praise For…
---
"Attention Jeff Goldblum stans (i.e. everyone with a pulse) . . . Christmas gifts are now sorted."
—Literary Hub

"Metatexually dazzling yet absurdly soothing, Helen McClory's The Goldblum Variations will put a dent in your bad vibes. . . . It is not hyperbole to say that [this] is the best book I have read this year. . . . McClory has crafted a very fine, lushly sensitive, gently moving series of portraits of a cultural icon . . . a crushingly excellent display of metatextual prowess that also manages to be uplifting and fun. The Goldblum Variations is the sweetest kind of adventure. McClory's quick read delivers the real thing—even though the thing is totally made up and silly."
—PopMatters