Diary of a Void: A Novel (Hardcover)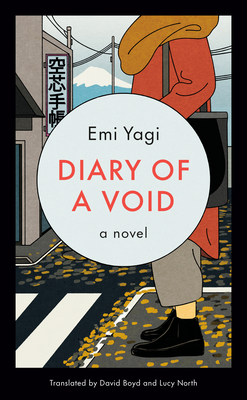 Description
---
A BEST BOOK OF THE YEAR: The New Yorker · NPR · WBEZ's Nerdette · The New York Public Library · Literary Hub

A New York Times Editors' Choice

"One of the most passionate cases I've ever read for female interiority, for women's creative pulse and rich inner life." ―Katy Waldman, The New Yorker

"Always expect the unexpected when you're not expecting." ―Sloane Crosley

A woman in Tokyo avoids harassment at work by perpetuating, for nine months and beyond, the lie that she's pregnant in this prizewinning, thrillingly subversive debut novel about the mother of all deceptions, for fans of Convenience Store Woman and Breasts and Eggs

When thirty-four-year-old Ms. Shibata gets a new job to escape sexual harassment at her old one, she finds that as the only woman at her new workplace—a manufacturer of cardboard tubes—she is expected to do all the menial tasks. One day she announces that she can't clear away her coworkers' dirty cups—because she's pregnant and the smell nauseates her. The only thing is . . . Ms. Shibata is not pregnant.

Pregnant Ms. Shibata doesn't have to serve coffee to anyone. Pregnant Ms. Shibata isn't forced to work overtime. Pregnant Ms. Shibata watches TV, takes long baths, and even joins an aerobics class for expectant mothers. She's living a year of rest and relaxation, and is finally being treated by her colleagues as more than a hollow core. But she has a ruse to keep up. Before long, it becomes all-absorbing, and with the help of towel-stuffed shirts and a diary app that tracks every stage of her "pregnancy," the boundary between her lie and her life begins to dissolve.

Surreal and absurdist, and with a winning matter-of-factness, a light touch, and a refreshing sensitivity to mental health, Diary of a Void will keep you turning the pages to see just how far Ms. Shibata will carry her deception for the sake of women, and especially working mothers, everywhere.
About the Author
---
Emi Yagi is an editor at a Japanese women's magazine. She was born in 1988 and lives in Tokyo. Diary of a Void is her first novel; it won the Dazai Osamu Prize, awarded annually to the best debut work of fiction.

David Boyd (translator) has twice won the Japan-U.S. Friendship Commission Prize for the Translation of Japanese Literature. He has translated fiction by Mieko Kawakami, Izumi Suzuki, and Hiroko Oyamada, among others. He is an assistant professor of Japanese at the University of North Carolina at Charlotte.

Lucy North (translator) is the translator of The Woman in the Purple Skirt by Natsuko Imamura as well as fiction and nonfiction by over half a dozen other modern and contemporary Japanese writers, including Taeko Kono, Fumiko Enchi, Hiroko Oyamada, and Hiromi Kawakami. Her fiction translations have appeared in Granta, Words Without Borders, and The Southern Review, as well as in The Oxford Book of Japanese Short Stories, The Columbia Anthology of Modern Japanese Literature, and Found in Translation: 100 of the Finest Short Stories Ever Translated.
Praise For…
---
"Few novels live up to their promise of revelatory social commentary. But a particularly good one can still tempt even the most cynical of readers. . . . Yagi has a light touch for the endless ironies made possible by her premise. There is humor ('since I got pregnant' becomes a delightful refrain), but also the realization that the alienation of pregnancy and motherhood is no reprieve from the oppressive office culture that inspires Shibata's experiment." ―Lauren Oyler, The New York Times Book Review

"Magical . . . Cleverly structured . . . I was initially motivated to keep reading just to see how Shibata pulls off a fake pregnancy, but I quickly became enthralled by the narrator's deadpan humor and her sharp observations of Japanese society's treatment of women." ―Yurina Yoshikawa, NPR

"Explosive . . . I binge-read this book in two days and am hungry for more from this debut novelist." ―Chloe Veltman, NPR's "Books We Love"

"Quietly subversive . . . Beautifully poetic . . . I loved this barking mad premise. . . . It reminded me a little bit of 'Bartleby, the Scrivener.' . . . [Shibata] says, I would prefer not to participate in this society that expects certain things of me. It really does ask the question, in such an interesting way, of what happens when you take away societal expectations like motherhood and running after men; what makes a fulfilling life?" ―Chloe Veltman, NPR's Pop Culture Happy Hour, "2022 Books We Love: Realistic Fiction"

"A fascinating and interesting book that I'm really enjoying digging into." ―Andrew Limbong, NPR's Pop Culture Happy Hour

"Yagi artfully blurs the boundary between truth and lies with this riotous solution to women's workplace challenges." ―The Washington Post

"Readers with a taste for the absurd should find this short, quirky novel highly entertaining." ―The Christian Science Monitor

"Delightful . . . Shibata's ruse charmed me. . . . I laughed with recognition as Shibata tries to visualize her fictional baby using an app that compares it to differently sized fruit. . . . [I] thought, too, of how many pregnant people might relate to Shibata's weariness at fielding invasive questions and unsolicited opinions. . . . If you've ever wanted to bite back at a nosy boss, a rude co-worker, an unfair assignment, or the endless list of shoulds we face, then maybe you'll find something to enjoy in [Shibata's] audacity too." ―Rowan Hisayo Buchanan, The Atlantic

"Some premises prove so irresistible that they become crutches, excusing a colorless execution. That's not the case here. . . . Shibata would make a terrific work friend. . . . Yagi doesn't simply explore how 'pregnancy' affects Shibata, socially and psychologically. Her designs are both deeper and weirder; she wants to press on broad assumptions about life, vitality, and spirit, and where these qualities can be found. . . . [She] is after . . . those parts of us, precious and possibly hostile, which flower in darkness, disintegrate when described, and can be compared only to alien life-forms. Call it bioluminescence—whatever animates the esoteric chambers of the heart, the rooms so private that they are sometimes mistaken for voids." ―The New Yorker

"A surreal, engrossing meditation on loneliness, womanhood, and what it actually means to have a work-life balance." —Mother Jones

"Takes office toxicity and how we cope to new heights." ―Fortune

"The premise . . . is so elegant, it's one of those ideas that feels wonderfully familiar. . . . The tension grows along with the comedic details. . . . Diary of a Void starts as stylish satire about the societal luxuries afforded to pregnant woman, a cri de coeur for those who have yet to make such practical use of their wombs. But it becomes something even more profound." ―Sloane Crosley, Departures

"A debut you won't want to miss." ―Associated Press

"A really interesting novel in terms of asking questions about who we determine worthy of our respect, and our modern work culture, and feminism. I really recommend this one, and it's short, it's great—throw it in your beach bag, it's a slim little book." ―Jordan Lauf, WNYC's All Of It

"This book is unhinged in the best possible way. Read it if you keep fantasizing about how to never have to work again." ―WBEZ's Nerdette

"This vibrant tale of a woman's fictitious pregnancy offers a charming social commentary on modern isolation and how community can transform an individual's self-worth." ―The New York Public Library, "Best Books of 2022"

"Shibata is a modern-day Bartleby, refusing to work simply because she doesn't want to. . . . Her lie is . . . the lie of the overworked, underpaid, and burned out. . . . The novel's real achievement is its refusal to moralize or elevate anything popularly thought to give life meaning: hard work, motherhood, material success, community. It's nihilistic to the extreme." ―The Baffler

"[Shibata's] dry meditations on her fake pregnant life offer an insight into what it means to be a woman in our time. . . . As a mode of resistance, Shibata's trick is perfect." ―Electric Literature

"Delicately wrought . . . A sweetly surreal novel about seeking respect and human connection in an increasingly isolated world." —Harvard Review

"Intriguing . . . Humorous and subversive . . . Yagi's writing is spare but powerful, and reminded me of the prose of Jhumpa Lahiri, whose writing probes systems of patriarchy." —Rageshri Dhairyawan, The Lancet

"I love this book. . . . I cannot say enough great things about Diary of a Void. . . . This is a fantastic Japanese novel. . . . One of the coolest, most exciting, most hilarious novels I've read in quite a while . . . [It] is brilliant, but it doesn't bog itself down with anger and vitriol and frustration like a lot of feminist novels do. . . . [It] is also funny and sarcastic; it pokes fun at men, it pokes fun at society, it has fun with all of these double standards. . . . There's so much to enjoy here. . . . Diary of a Void is now one of my favorite Japanese novels. . . . Emi Yagi is going right up there in that wonderful pantheon of Japanese women like Sayaka Murata, like Mieko Kawakami, like Natsuo Kirino. I am amazed by Diary of a Void. . . . Almost everything about this novel is perfect. . . . It is so, so worth your time." ―Willow Heath, Books and Bao

"Wry and witty . . . Relatable and humorous . . . Perfectly modulated . . . Both simple and profound." ―The Japan Times

"One of the most intriguing new novels of the summer." ―The Independent

"A subversive, surreal read that will strike a chord with many women." ―Red

"Incredibly thought-provoking . . . You'll love Yagi's writing." ―Stylist

"Endlessly strange, funny, and meaningful." ―Good Housekeeping (U.K.)

"Riveting and surreal . . . Absurdist, amusing, and clever, the story brings subtlety and tact to its depiction of workplace discrimination—as well as a touch of magic. Readers will eagerly turn the pages all the way to the bold conclusion." —Publishers Weekly (starred review)

"I found myself completely captivated by this novel's unusual and inviting premise and all that it questions and stirs up. So much teems beneath the surface here!" —Aimee Bender, New York Times bestselling author of The Particular Sadness of Lemon Cake

"Filled with sly humor and touching intimacy, Diary of a Void builds from its revolutionary premise into a powerfully resonant story of longing and defiance. An absolutely thrilling read—I didn't want to put it down." ―Claire Stanford, author of Happy for You

"I loved it. It's incredible. The story of a woman who—with one tiny lie—transforms her dull existence into a life filled with daily miracles, Diary of a Void is joyful, exuberant, and triumphant. It made my heart sing." —Claire Oshetsky, author of Chouette

"Darkly funny and surprisingly tender." ―Kirsty Logan, author of The Gracekeepers and Things We Say in the Dark

"A gripping and thought-provoking examination of womanhood and motherhood in a patriarchal society." ―An Yu, author of Braised Pork
 
"Comical and tender, absurd, bold, and joyful." ―Ayşegϋl Savaş, author of White on White

"Captivating . . . [A] darkly funny story that point blank calls out the actions of men." ―Debutiful

"Thrillingly absurd . . . Timely . . . Yagi's subversive debut explores weaponized femininity while critiquing the modern working landscape in its division of gendered labor." ―Mochi Magazine

"One of the most fun premises I've heard all year." ―Walker Caplan, Literary Hub

"This story really shone for me. . . . You're on pins and needles to discover what will happen as this fake pregnancy runs its course. . . . The [fun] premise pays off." ―Eliza Smith, Literary Hub

"Often funny and ultimately quite unsettling . . . Here we have two brilliant translators, and a single, singular voice without a seam in sight." ―Daniel Hahn and Lisa Dillman, Literary Hub

"Diary of a Void is more than a workplace novel; it's a surreal and critical look at fertility, motherhood, and the roles women are forced to play for the convenience of men." ―Emily Firetog, Literary Hub, "Best Books of the Year"

"What I like about it is that it takes place in Tokyo, but you're really watching quite a closed world [within] Tokyo, a massive city. It doesn't feel narrow [or] solipsistic, but you just have her bouncing basically between work and home for a lot of the novel. And I like that sort of tight shot on the characters. I tried to do that with Cult Classic, too. To give you a cinematic comp, I would say Russian Doll does that very well." ―Sloane Crosley, quoted in Bustle

"Satisfyingly acidulous." ―Library Journal

"Captures the universal pleasures and complexities of being a woman . . . I loved the plot, and the inventive manner in which the book explored gender, parenthood, and identity." —Yamini Vijayan, Deccan Herald

"Wryly ironic . . . Diary of a Void raises searching questions about compartmentalized roles." ―Moneycontrol

"Wonderfully off-kilter . . . The ease with which Yagi spins words to fuse the absurd with the everyday, the fabricated with the real, marks Diary of a Void as a great debut." ―Cyprus Mail

"You can't take your eyes off the page." ―Croissant

"So tightly written, and so much fun to read." ―Kikuko Tsumura, author of There's No Such Thing as an Easy Job
 
"In this fictional diary of a pregnant woman, it is the real, rather than the made-up, aspects of society, such as single parenting and discrimination against women in the workplace, that are powerfully depicted." ―Kyoko Nakajima, author of The Little House