Eyeliner: A Cultural History (Hardcover)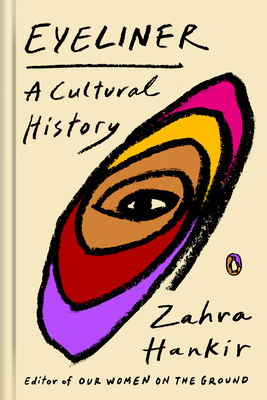 Description
---
A New York Times Book Review Editors' Choice Pick

"Cosmetic, tool of rebellion, status signifier: Eyeliner has been all these and more. Moving through millenniums and across civilizations, Hankir gives the makeup its eye-opening due." —The New York Times Book Review

"An impressive, rigorously researched, winding path through centuries and over continents." —NPR.org

"I loved Eyeliner. Hankir approaches her subject with dedicated curiosity, humility, and humor, blending anthropology, travel writing, memoir and history. A treat." —Kassia St. Clair, author of The Secret Lives of Color

From the acclaimed editor of Our Women on the Ground comes a dazzling exploration of the intersections of beauty and power around the globe, told through the lens of an iconic cosmetic

From the distant past to the present, with fingers and felt-tipped pens, metallic powders and gel pots, humans have been drawn to lining their eyes. The aesthetic trademark of figures ranging from Nefertiti to Amy Winehouse, eyeliner is one of our most enduring cosmetic tools; ancient royals and Gen Z beauty influencers alike would attest to its uniquely transformative power. It is undeniably fun—yet it is also far from frivolous.

Seen through Zahra Hankir's (kohl-lined) eyes, this ubiquitous but seldom-examined product becomes a portal to history, proof both of the stunning variety among cultures across time and space and of our shared humanity. Through intimate reporting and conversations—with nomads in Chad, geishas in Japan, dancers in India, drag queens in New York, and more—Eyeliner embraces the rich history and significance of its namesake, especially among communities of color. What emerges is an unexpectedly moving portrait of a tool that, in various corners of the globe, can signal religious devotion, attract potential partners, ward off evil forces, shield eyes from the sun, transform faces into fantasies, and communicate volumes without saying a word.

Delightful, surprising, and utterly absorbing, Eyeliner is a fascinating tour through streets, stages, and bedrooms around the world, and a thought-provoking reclamation of a key piece of our collective history.
About the Author
---
Zahra Hankir, a Lebanese British journalist and the editor of Our Women on the Ground, writes about the intersection of politics, culture, and society, particularly in the broader Middle East. Her work has appeared in publications including Condé Nast Traveler, The Observer Magazine, The Times Literary Supplement, BBC News, Al Jazeera English, Bloomberg Businessweek, the Los Angeles Times, and The Rumpus. She was awarded a Jack R. Howard Fellowship inInternational Journalism to attend the Columbia Journalism School and holds degrees in politics and Middle Eastern studies.
Praise For…
---
Praise for Eyeliner:

"[A] perceptive cultural history . . . engrossing and appealingly monomaniacal . . . Each chapter is more interesting than the last. Hankir doesn't take her subject too seriously; her history lessons are peppered with cultural references and good humor. The book is also a smoky-eye lover's paradise: an orgy of makeup rituals, of tips and tricks, of brands to try." —Cat Marnell, The New York Times Book Review

"Eyeliner is admirable in the breadth and depth of its research, and edifying . . . an impressive, rigorously researched, winding path through centuries and over continents." —NPR.org

"Hankir does a spectacular job of raising the stakes and setting up eyeliner as this culturally powerful and iconic practice, all tied back on Nefertiti…a book that succeeds in telling, if not one story, then many stories, about a utilitarian, symbolic, and essential practice that transcends cultures around the world." —Chicago Review of Books
 
"[Hankir] seamlessly takes her readers on a global investigation . . . Through intimate narratives with varied characters from different cultures and communities, we learn more about the product's rise in prominence while having a fly-on-the-wall inside look at the ways it serves medicinal purposes, fuels spiritual practices, uplifts self-expression and how its mere existence on someone's eyelid can be viewed as a form of defiance." —Associated Press

"A significant addition to cultural histories of self-expression. Hankir disrupts many deeply held assumptions about beauty, gender, and power . . . Hankir writes with boldness and care . . . [she] meticulously details commonalities in physical and aesthetic practices [...] without losing sight of cultural specificity or intersectionality." —Library Journal (starred review) 

"A fascinating history . . . If you've never given much thought to the beauty staple, Eyeliner will change that forever." —Town & Country

"This captivating account reveals the complex significance of a seemingly simple adornment . . . Hankir packs her reader-friendly narrative with relatable examples of cultural and geographic significance . . . Throughout, Hankir maintains an appealing sense of intimacy." —Publishers Weekly (starred review)

"Readers will never think of eyeliner the same way after reading this book . . . [Eyeliner] has a richer and sometimes stranger history than many people (including me) would have guessed . . . endlessly fascinating." —Electric Literature

"Eye-opening and surprisingly intimate . . . Hankir's journalism background shines through . . . And her own reflections lend weight to the close-up and personal feeling conveyed throughout . . . Eyeliner is a thorough retrospective of a product that has endured over time and continues to play a significant role for cultures around the globe." —BookPage

"Fascinating . . . The book travels around the world and through time, documenting the use of eyeliner in religious settings, in social settings, cultural customs around it, and much more. [Hankir] blends memoir and anecdote with research and reportage, historical examination, and cultural/societal commentary to create an absorbing and engaging read." —Book Riot

"Absorbing . . . Hankir provides an engaging, colorful study while relating her own cross-cultural story." —Kirkus Reviews

"Detailed and engaging . . . [an] absorbing look at how people around the world use eyeliner to express and reinvent themselves . . . readers interested in beauty culture will be fascinated by this accessible examination of such a versatile and popular beauty product." —Booklist

"Intriguing . . . [Hankir] uses this ancient form of makeup as an ingenius prism through which to explore cultural identity." —The Bookseller (UK), Editor's Choice

"I loved Eyeliner. Hankir approaches her subject with dedicated curiosity, humility, and humor, blending anthropology, travel writing, memoir and history. A treat to read and—of course—beautifully eye-opening." —Kassia St. Clair, author of The Secret Lives of Color

"Zahra Hankir's Eyeliner is a captivating exploration of the historic lineage and contemporary use of eyeliner. An arresting feminist narrative from start to finish, this book reveals the depth and multi-dimensionality of a cosmetic that connects Queen Nefertiti to young women protesting in contemporary Iran and beyond." —Rafia Zakaria, author of Against White Feminism

"Combining the steady contemplation of the personal essay with her journalistic flair for storytelling, Zahra Hankir traces the history of kohl, traversing space, time, and cultures to delve into the deeply human importance of a makeup kit staple many of us don't give a second thought. The result is an engaging read that is poignant, enlightening, and full of emotional depth." —Layla AlAmmar, author of Silence is a Sense

"Who knew the humble eyeliner could offer up so much? Zahra Hankir's beautiful writing style and incredible attention to detail mean that even those with zero interest in makeup will find this book awe-inspiring and fascinating as it goes far beyond the realm of beauty." —Funmi Fetto, Contributing Beauty Editor at British Vogue and Beauty Director at the Observer

Praise for Zahra Hankir and Our Women on the Ground:

"A refreshing anthology of essays by female writers whose work cut through the many clichés of Middle East reporting. Their accounts provide honest and raw depictions, recounted from their own experiences and from other women whose stories are often overlooked when reporting on foreign policy and conflict."
—The New York Times

"Refreshing (and long overdue) . . . Will appeal to readers of all genders and backgrounds who want to broaden their understanding of the Arab world."
—NPR

"Determination, grit and humour shine through the writing of reporters who frequently face opposition from their own families."
—The Guardian, "The Best Books of 2019"

"It has been many years since I have, at the end of a book, felt compelled immediately to start again from the beginning. . . . [A] superb compendium of reporting by Arab women . . . Intelligence and depth of insight . . . radiate[s] from these brilliant journalists."
—Bobby Ghosh, Bloomberg

"Excellent."
—n+1

"A masterpiece . . . [and] an absolute must-read."
—Bust

"Truly groundbreaking."
—InStyle

"Powerful."
—Bustle

"Incredibly eye-opening."
—Cosmopolitan