The Conspiracy of Us (Paperback)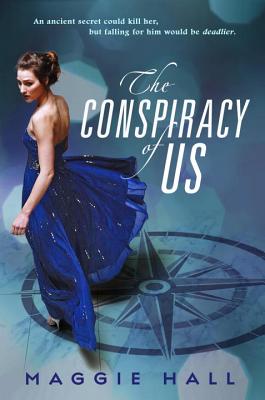 $10.99
Email or call for price.
Other Books in Series
This is book number 1 in the CONSPIRACY OF US series.
Description
---
A fast-paced international escapade, laced with adrenaline, glamour, and romance--perfect for fans of Kiera Cass and Ally Carter

Avery West's newfound family can shut down Prada when they want to shop in peace, and can just as easily order a bombing when they want to start a war. Part of a powerful and dangerous secret society called the Circle, they believe Avery is the key to an ancient prophecy. Some want to use her as a pawn. Some want her dead.

To unravel the mystery putting her life in danger, Avery must follow a trail of clues from the monuments of Paris to the back alleys of Istanbul with two boys who work for the Circle—beautiful, volatile Stellan and mysterious, magnetic Jack. But as the clues expose a stunning conspiracy that might plunge the world into World War 3, she discovers that both boys are hiding secrets of their own. Now she will have to choose not only between freedom and family--but between the boy who might help her save the world, and the one she's falling in love with. 
About the Author
---
Maggie Hall indulges her obsession with distant lands and far-flung adventures as often as she can. She has played with baby tigers in Thailand, learned to make homemade pasta in Italy, and taken thousands of miles of trains through the vibrant countryside of India. In her past life, she was a bookstore events coordinator and marketing manager, and when she's not on the other side of the world, she lives with her husband and their cats in Albuquerque, New Mexico, where she watches USC football, dabbles in graphic design, and blogs about young adult literature for YA Misfits.
Praise For…
---
"A Da Vinci Code-style thriller for teens? Yes please."—TeenVogue.com
 
"An intense page turner filled with intrigue, lush settings and a dash of romance. This is a one-sitting read."—Hypable.com
 
"This is such a fun, wild read. . . . I recommend this for anyone looking for adventure, spice, forbidden romance and very powerful families who rule behind the scenes. Oh, and conspiracies, lots and lots of conspiracies."—USAToday.com
 
"A cinematic, puzzle-solving action-adventure that . . . will appeal to those who want puzzles and action mixed with their fashion and romance."—Kirkus Reviews
 
"Hall's worldbuilding is as enthralling as the best fantasy sagas, even though it is a world within our own. Her characters are captivating, again cleverly mixing believability with the outrageous demands of her conspiracy. The puzzle and mystery of her plot will draw readers in . . . This is a fun, fast read." —VOYA
 
"This fine mix of adventure and romance will easily pull readers into a world of just-believable-enough conspiracy theories, while a cliff-hanger ending will leave them eagerly awaiting the next installment of the adventure."—Booklist
 
"Thrilling and addictive, Hall's debut is a knockout! . . . This is an outstanding novel by an impressive author to watch."—RT Book Reviews
 
"Hall sweeps readers into a world of conspiracies, puzzles, and mystery from the first page, and provides a likable and intelligent narrator in Avery. Perfect for fans of Rick Riordan's The Red Pyramid, Ally Carter's Gallagher Girls series, and Michael Scott's The Secrets of the Immortal Nicholas Flamel."—School Library Journal