The New Oxford Annotated Apocrypha: New Revised Standard Version (Hardcover)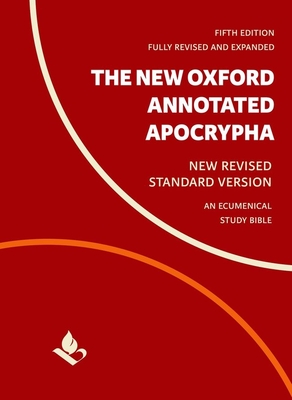 $21.95
Not Available In-Store - Usually Ships from Warehouse in 1-5 Days
Description
---
For decades students, professors, clergy, and general readers have relied on The New Oxford Annotated Apocrypha as an unparalleled authority on the Apocrypha. This fifth edition remains the best way to study and understand the material at home or in the classroom. This thoroughly revised and
substantially updated edition contains the best scholarship informed by recent discoveries and anchored in the solid Study Bible tradition. - Introductions and extensive annotations for each book by acknowledged experts in the field provide context and guidance.
- Introductory essay on the Apocrypha gives readers an overview that guides more intensive study.
- Maps and diagrams within the text contextualize where events took place and how to understand them.
- A timeline, calendar, and essay on the Persian and Hellenistic Periods help to contextualize the books. A volume that users will want to keep for continued reference, The New Oxford Annotated Apocrypha continues the Oxford University Press tradition of providing excellence in scholarship for the general reader. Generations of users attest to its status as the best one-volume Bible reference tool for
any home, library, or classroom.

About the Author
---
Michael Coogan is Lecturer on Old Testament/Hebrew Bible at Harvard Divinity School and Director of Publications for the Harvard Semitic Museum. He has also taught at Harvard University, Boston College, Wellesley College, Fordham University, and the University of Waterloo (Ontario), and hasparticipated in and directed archaeological excavations in Israel, Jordan, Cyprus, and Egypt. He is the author of Old Testament text books and The Old Testament: A Very Short Introduction. Marc Z. Brettler is Bernice and Morton Lerner Professor in Judaic Studies at Duke University. Carol Newsom is Charles Howard Candler Professor of Old Testament, Candler School of Theology, Emory University. Pheme Perkins is Professor of Theology at Boston College.