Philosophy: A Very Short Introduction (Very Short Introductions #55) (Paperback)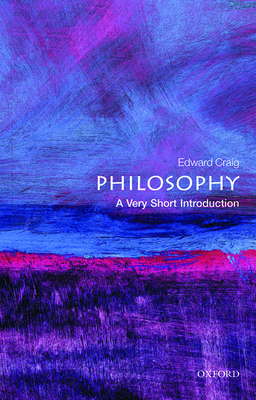 Description
---
How ought we to live? What really exists? How do we know? This book introduces important themes in ethics, knowledge, and the self, via readings from Plato, Aristotle, Descartes, Hegel, Darwin, and Buddhist writers. It emphasizes throughout the point of studying philosophy, explains how
different areas of philosophy are related, and explores the contexts in which philosophy was and is studied. About the Series: Combining authority with wit, accessibility, and style, Very Short Introductions offer an introduction to some of life's most interesting topics. Written by experts for the newcomer, they demonstrate the finest contemporary thinking about the central problems and issues in hundreds
of key topics, from philosophy to Freud, quantum theory to Islam.
About the Author
---
Edward Craig is Knightsbridge Professor of Philosophy at Cambridge University, where he is also a Fellow of Churchill College. He has held visiting appointments at the Universities of Hamburg and Heidelberg, and the University of Melbourne. His publications include The Mind of God and the Works ofMan (OUP, 1987), Knowledge and the State of Nature (OUP, 1990), and he is general editor of the Routledge Encyclopedia of Philosophy.