The Militant Suffrage Movement: Citizenship and Resistance in Britain, 1860-1930 (Hardcover)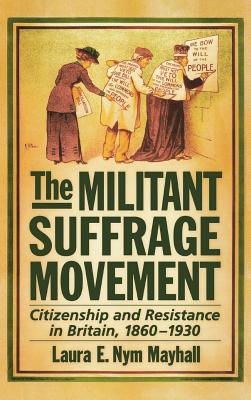 Description
---
The image of middle-class women chaining themselves to the rails of 10 Downing Street, smashing windows of public buildings, and going on hunger strikes in the cause of votes for women have become visually synonymous with the British suffragette movement over the past century. Their story has become a defining moment in feminist history, in effect separating women's fight for voting rights from contemporary issues in British political history and disconnecting their militancy from other forms of political activism in Britain in the 19th and early 20th centuries. Drawing upon private papers, pamphlets, newspapers, and the records of a range of suffrage and political organizations, Laura E. Nym Mayhall examines militancy as both a political idea and a set of practices that suffragettes employed to challenge their exclusion from the political nation. She traces the development of the suffragettes' concept of resistance from its origins within radical liberal discourse in the 1860s, to its emergence as political practice during Britain's involvement in the South African War, its reliance on dramatic spectacle by suffragette organizations, and its memorialization following enfranchisement. She reads closely the language and tactics militants used, analyzing their challenges in the courtroom, on the street, and through legislation as reasoned actions of female citizens. The differences in strategy among militants are highlighted, not just in the use of violence, but also in their acceptance and rejection of the authority of the law and their
definitions of the ideal relationship between individuals and the state. Variations in the nature of protest continued even during World War I, when most suffragettes suspended their activities to serve the nation's war effort, while others joined peace movements, opposed the state's reduction of civil liberties in wartime, and continued the struggle for suffrage. Mayhall's revealing account of the militant suffrage movement sheds new light upon the social history of gender but, more importantly, it connects this movement to the political and intellectual history of Britain. Not only did militancy play an essential role in the achievement of women's political rights but it also contributed to the practice of engaged citizenship and the growth of liberal democracy.

About the Author
---
Laura E. Nym Mayhall teaches in the Department of History at the Catholic University of America. She is the co-editor of Women's Suffrage in the British Empire: Citizenship, Nation and Race.