Seeing Women, Strengthening Democracy: How Women in Politics Foster Connected Citizens (Hardcover)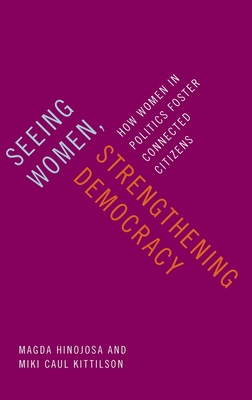 $74.00

Not Available In-Store - Usually Ships from Warehouse in 1-5 Days
Description
---
Under what conditions do citizens most effectively connect to the democratic process? We tend to think that factors like education, income, and workforce participation are most important, but research has shown that they exert less influence than expected when it comes to women's attitudes and
engagement. Scholars have begun to look more closely at how political context affects engagement. This book asks how contexts promote women's interest and connection to democracy, and it looks to Latin America for answers. The region provides a good test case as the institution of gender quotas has
led to more recent and dramatic increases in women's political representation. Specifically, Magda Hinojosa and Miki Caul Kittilson argue that the election of women to political office--particularly where women's presence is highly visible to the public--strengthens the connections between women and the democratic process. For women, seeing more people like me in politics
changes attitudes and orientations toward government and politics. The authors untangle the effects of gender quotas and the subsequent rise in women's share of elected positions, finding that the latter exerts greater impact on women's connections to the democratic process. Women citizens are more
knowledgeable, interested, and efficacious when they see women holding elected office. They also express more trust in government and in political institutions and greater satisfaction with democracy when they see more women in politics. The authors look at comparative data from across Latin
America, but focus on an in-depth case study of Uruguay. Here, the authors find that gender gaps in political engagement declined significantly after a doubling of women's representation in the Senate. The authors therefore argue that far-reaching gender gaps can be overcome by more equitable
representation in our political institutions.

About the Author
---
Magda Hinojosa is Associate Professor in the School of Politics and Global Studies at Arizona State University. She is the author of Selecting Women, Electing Women: Political Representation and Candidate Selection in Latin America. She has also authored numerous book chapters and articles that haveappeared in journals, including Politics & Gender, Latin American Politics & Society, and Party Politics. Miki Caul Kittilson is Professor in the School of Politics and Global Studies at Arizona State University. Her research focuses on challenges to democratic inclusion across a variety of countries. She has previously published articles and books on women, gender and politics, political parties, courts, and political participation. She is the co-author of The Gendered Effects of Electoral Institutions: Political Engagement and Participation (with Leslie Schwindt-Bayer). Her research has also appeared in journals such as the American Journal of Political Science, Journal of Politics, International Organization, Comparative Political Studies, Politics, Groups and Identities, Perspectives on Politics, Party Politics, Political Behavior and Politics & Gender.