The Elements of Style (Paperback)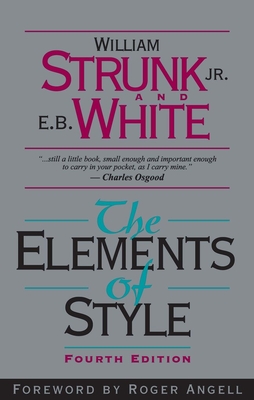 Staff Reviews
---
The term "grammar Nazi" should cause concern for a number of reasons. For one, no one should willingly compare themselves to a Nazi. For another, Nazism (or any abolutism) just does not work well in grammar, as Strunk and White exemplify. They key to good grammar is not to adhere to unrelenting rules, but to learn the proper usage of grammatical elements. What is the USE of an oxford comma, as compared to the lack of one? Or the USE of a semi-colon, as compared to a colon or a comma? Or the USE of a fragmented sentence? I made a game out of finding sentences where Strunk and White simultaneously describe and demonstrate the elements, like master painters illustrating the proportions of the body. This book is linguistic alchemy. Go make some gold.
—
Jalen
Description
---
You know the authors' names. You recognize the title. You've probably used this book yourself. This is The Elements of Style, the classic style manual, now in a fourth edition. The revisions to the new edition are purposely kept minimal in order to retain the book's unique tone, wit, and charm. A new Glossary of the grammatical terms used in the book provides a convenient reference for readers. The discussion of pronoun use is revised to reflect the contemporary concern with sexist language. In addition, there are numerous slight revisions in the book itself which implement this advice. A new Foreword by Roger Angell reminds readers that the advice of Strunk & White is as valuable today as when it was first offered.This book has conveyed the principles of English style to millions of readers. Use the fourth edition of "the little book" to make a big impact with writing.
About the Author
---
William Strunk, Jr. first used his own book, The Elements of Style, in 1919 for his English 8 course at Cornell University. The book was published in 1935 by Oliver Strunk. E. B. White was a student in Professor Strunk's class at Cornell, and used "the little book" for himself. Commissioned by Macmillan to revise Strunk's book, White edited the 1959 and 1972 editions of The Elements of Style.