The Ark and Beyond: The Evolution of Zoo and Aquarium Conservation (Convening Science: Discovery at the Marine Biological Laboratory) (Hardcover)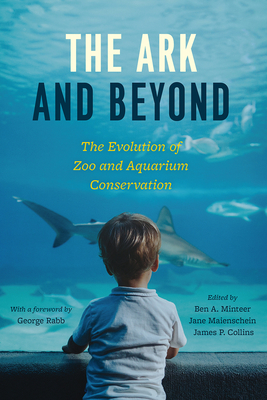 Email or call for price
Not Available In-Store - Usually Ships from Warehouse in 1-5 Days
Description
---
Scores of wild species and ecosystems around the world face a variety of human-caused threats, from habitat destruction and fragmentation to rapid climate change. But there is hope, and it, too, comes in a most human form: zoos and aquariums. Gathering a diverse, multi-institutional collection of leading zoo and aquarium scientists as well as historians, philosophers, biologists, and social scientists, The Ark and Beyond traces the history and underscores the present role of these organizations as essential conservation actors. It also offers a framework for their future course, reaffirming that if zoos and aquariums make biodiversity conservation a top priority, these institutions can play a vital role in tackling conservation challenges of global magnitude.

While early menageries were anything but the centers of conservation that many zoos are today, a concern with wildlife preservation has been an integral component of the modern, professionally run zoo since the nineteenth century. From captive breeding initiatives to rewilding programs, zoos and aquariums have long been at the cutting edge of research and conservation science, sites of impressive new genetic and reproductive techniques. Today, their efforts reach even further beyond recreation, with educational programs, community-based conservation initiatives, and international, collaborative programs designed to combat species extinction and protect habitats at a range of scales. Addressing related topics as diverse as zoo animal welfare, species reintroductions, amphibian extinctions, and whether zoos can truly be "wild," this book explores the whole range of research and conservation practices that spring from zoos and aquariums while emphasizing the historical, scientific, and ethical traditions that shape these efforts. Also featuring an inspiring foreword by the late George Rabb, president emeritus of the Chicago Zoological Society / Brookfield Zoo, The Ark and Beyond illuminates these institutions' growing significance to the preservation of global biodiversity in this century.
About the Author
---
Ben A. Minteer holds the Arizona Zoological Society Endowed Chair in the School of Life Sciences at Arizona State University. He has published a number of books, including Refounding Environmental Ethics and The Landscape of Reform.
Jane Maienschein is University Professor in the School of Life Sciences at Arizona State University and fellow and director of the History and Philosophy of Science Project at the Marine Biological Laboratory in Woods Hole, Massachusetts. She is the author of Embryos under the Microscope: The Diverging Meanings of Life and, with Manfred Laubichler coeditor of Form and Function in Developmental Evolution.
James P. Collins is the Virginia M. Ullman Professor of Natural History and the Environment in the School of Life Sciences at Arizona State University. He is coauthor of Extinction in Our Times: Global Amphibian Decline.
Praise For…
---
"In an age of extinction, 'wild' places are increasingly being managed like zoos. What role do actual zoos and aquariums have to play? The Ark and Beyond looks at this question from all angles; the result is both informative and thought-provoking."
— Elizabeth Kolbert, author of the Pulitzer Prize–winning "The Sixth Extinction: An Unnatural History"
"The role of zoos and aquariums is constantly evolving, particularly as there is pressure to increase their contribution to conservation. This collection ably shows that zoos and aquariums are not a flotilla of little arks that have to be self-sufficient. Rather, we should be better grounded in the social fabric of our communities, better networked, and better connected to the animals outside our walls."
— Jenny Gray, CEO of Zoos Victoria, Australia, and president of the World Association of Zoos and Aquariums
"The Ark and Beyond is essential reading for anyone interested in our tangled and evolving relationship with zoos and aquariums. At the zoo we find ourselves at the shifting borderland between the wild and the walled. This book's editors and contributors explore that territory, bringing together decades of practical and theoretical expertise in conservation biology, history, and education. Their insights will deeply inform and benefit readers wrestling with the complex questions we find ourselves asking when we lock eyes with our kindred creatures."
— Curt Meine, Aldo Leopold Foundation & Center for Humans and Nature