Capitalism and Freedom (Paperback)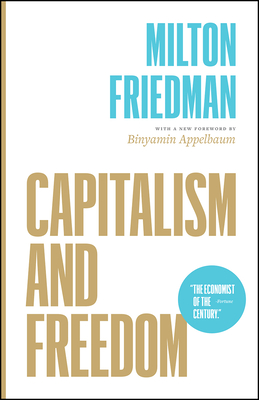 $18.00

Not Available In-Store - Usually Ships from Warehouse in 1-5 Days
Description
---
One of TIME magazine's All-TIME 100 Best Nonfiction Books
One of Times Literary Supplement's 100 Most Influential Books Since the War
One of National Review's 100 Best Nonfiction Books of the Century
​One of Intercollegiate Studies Institute's 50 Best Books of the 20th Century

How can we benefit from the promise of government while avoiding the threat it poses to individual freedom? In this classic book, Milton Friedman provides the definitive statement of an immensely influential economic philosophy—one in which competitive capitalism serves as both a device for achieving economic freedom and a necessary condition for political freedom.
​
First published in 1962, Friedman's Capitalism and Freedom is one of the most significant works of economic theory ever written. Enduring in its eminence and esteem, it has sold nearly a million copies in English, has been translated into eighteen languages, and continues to inform economic thinking and policymaking around the world. This new edition includes prefaces written by Friedman for both the 1982 and 2002 reissues of the book, as well as a new foreword by Binyamin Appelbaum, lead economics writer for the New York Times editorial board.
About the Author
---
Milton Friedman (1912–2006), Nobel Prize winner for excellence in economics, was a senior research fellow at the Hoover Institution, Stanford University, and the Paul Snowden Distinguished Service Professor Emeritus of Economics at the University of Chicago. His many published books include Essays in Positive Economics, Monetary Trends in the United States and the United Kingdom, and Milton Friedman on Economics, all published by the University of Chicago Press.
Praise For…
---
"In Capitalism and Freedom, published in 1962, Friedman makes his most important contribution to his profession: the argument that the best medicine for curing a recession and stabilizing economies is for a nation's central bank (the Federal Reserve for the U.S.) to be slowly but constantly increasing the amount banks are allowed to lend and therefore increasing the supply of money—but only in brief."
— TIME Magazine, All-TIME 100 Best Nonfiction Books

"Full of tightly reasoned arguments about the principles of economic freedom in various spheres of life."
— Wall Street Journal