Describing Species: Practical Taxonomic Procedure for Biologists (Paperback)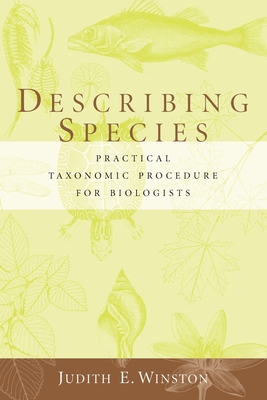 Description
---
New species are discovered every day--and cataloguing all of them has grown into a nearly insurmountable task worldwide. Now, this definitive reference manual acts as a style guide for writing and filing species descriptions. New collecting techniques and new technology have led to a dramatic increase in the number of species that are discovered. Explorations of unstudied regions and new habitats for almost any group of organisms can result in a large number of new species discoveries--and hence the need to be described. Yet there is no one source a student or researcher can readily consult to learn the basic practical aspects of taxonomic procedures.
Species description can present a variety of difficulties: Problems arise when new species are not given names because their discoverers do not know how to write a formal species description or when these species are poorly described. Biologists may also have to deal with nomenclatural problems created by previous workers or resulting from new information generated by their own research. This practical resource for scientists and students contains instructions and examples showing how to describe newly discovered species in both the animal and plant kingdoms. With special chapters on publishing taxonomic papers and on ecology in species description, as well as sections covering subspecies, genus-level, and higher taxa descriptions,
Describing Species
enhances any writer's taxonomic projects, reports, checklists, floras, faunal surveys, revisions, monographs, or guides. The volume is based on current versions of the International Codes of Zoological and Botanical Nomenclature and recognizes that systematics is a global and multicultural exercise. Though
Describing Species
has been written for an English-speaking audience, it is useful anywhere Taxonomy is spoken and will be a valuable tool for professionals and students in zoology, botany, ecology, paleontology, and other fields of biology.
About the Author
---
Judith E. Winston is director of research at the Virginia Museum of Natural History and a former curator and chair of the Department of Invertebrates at the American Museum of Natural History.