The Hillary Doctrine: Sex and American Foreign Policy (Paperback)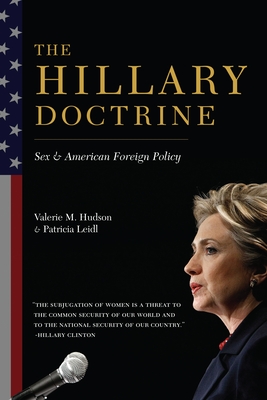 $19.95

Not Available In-Store - Usually Ships from Warehouse in 1-5 Days
Description
---
Hillary Rodham Clinton was the first Secretary of State to declare the subjugation of women worldwide a serious threat to U.S. national security. Known as the Hillary Doctrine, her stance was the impetus behind the 2010 Quadrennial Diplomatic and Development Review of U.S. foreign policy, formally committing America to the proposition that the empowerment of women is a stabilizing force for domestic and international peace.
Blending history, fieldwork, theory, and policy analysis while incorporating perspectives from officials and activists on the front lines of implementation, this book is the first to thoroughly investigate the Hillary Doctrine in principle and practice. Does the insecurity of women make nations less secure? How has the doctrine changed the foreign policy of the United States and altered its relationship with other countries such as China and Saudi Arabia? With studies focusing on Guatemala, Afghanistan, and Yemen, this invaluable policy text closes the gap between rhetoric and reality, confronting head-on what the future of fighting such an entrenched enemy entails. The research reports directly on the work being done by U.S. government agencies, including the Office of Global Women's Issues, established by Clinton during her tenure at the State Department, and explores the complexity and pitfalls of attempting to improve the lives of women while safeguarding the national interest.
About the Author
---
Valerie M. Hudson is professor and holds the George H. W. Bush Chair at the Bush School of Government and Public Service at Texas A&M University. She is the author or editor of several books, including (with Andrea Den Boer) Bare Branches: The Security Implications of Asia's Surplus Male Population, which won the American Association of Publishers Award for the Best Book in Political Science and the Otis Dudley Duncan Award for Best Book in Social Demography. Hudson is one of the principal investigators of the WomanStats Project, which includes the largest compilation of data on the status of women in the world today. Her most recent book is Sex and World Peace, coauthored with Bonnie Ballif-Spanvill, Mary Caprioli, and Chad Emmett, listed by Gloria Steinem as one of the top three books on her "Reading Our Way to the Revolution" list. Patricia Leidl is a Vancouver-based international communications adviser/writer. Leidl has spent close to two decades working with various United Nations agencies and more recently advising USAID-funded projects in Africa, Afghanistan and Yemen. She is the former head of the Advocacy and Communications with the Geneva-based HIV/AIDS Department of the World Health Organization and was senior editor/media advisor with the New York-based United Nations Population Fund. She continues to consult with numerous other multilateral organizations and international NGOs.