Photography in 100 Words: Exploring the Art of Photography with Fifty of Its Greatest Masters (Hardcover)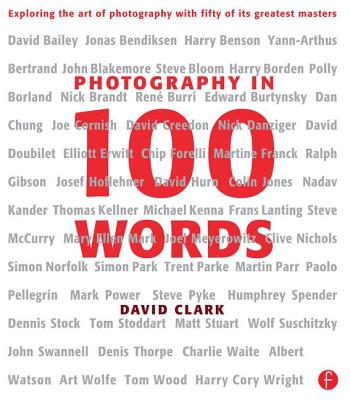 Description
---
The question 'What is photography?' is not an easy one to answer. Many thousands of words have been written in an effort to do so, in academic journals and in books by cultural commentators such as Susan Sontag and Roland Barthes. If we acknowledge that it is impossible to provide a definitive answer, can we at least distil the meaning of photography into somewhat fewer words, and get to the very essence of the medium without diminishing its importance as an art form?
This book aims to do just that. David Clark has selected 50 iconic images by some of the world's greatest photographers and asked them to explain how the pictures were made and their creative approach. From these interviews he has chosen 100 words - two from each photographer - that encapsulate their philosophy, and which are picked out in bold in the text. Martin Parr, for example, likes to capture ambiguity in many of his images, whereas David Bailey hopes for the perfect accident. For Harry Benson a news picture must have a sense of crisis while reportage photographer Paolo Pellegrin sees his role as that of a witness. And while Harry Cory Wright strives for completeness in his landscapes, Michael Kenna is drawn to the idea of suggestion.
The highlighted words work on two levels. As well as giving insights into iconic images from the photographers who took them, they build over the course of the book into a unique creative lexicon of the photographic medium - one which crystallises its many aims and functions, perspectives and meanings. Thought-provoking, insightful and inspirational, Photography in 100 Words will appeal to all photographers and anyone who seeks a better understanding of the medium.
About the Author
---
David Clark is a photography journalist and author. He was the senior features writer on Amateur Photographer magazine for nine years, during which time he met and interviewed many of the world's great photographers.