Eugene England: A Mormon Liberal (Introductions to Mormon Thought) (Paperback)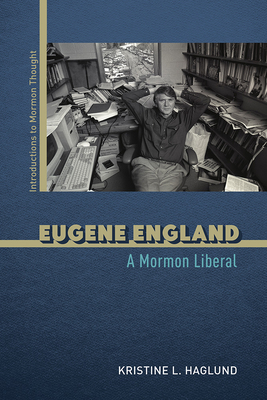 $14.95

Not Available In-Store - Usually Ships from Warehouse in 1-5 Days
Description
---
Eugene England championed an optimistic Mormon faith open to liberalizing ideas from American culture. At the same time, he remained devoted to a conservative Mormonism that he saw as a vehicle for progress even as it narrowed the range of acceptable belief.
Kristine L. Haglund views England's writing through the tensions produced by his often-opposed intellectual and spiritual commitments. Though labeled a liberal, England had a traditional Latter-day Saint background and always sought to address fundamental questions in Mormon terms. His intellectually adventurous essays sometimes put him at odds with Church authorities and fellow believers. But he also influenced a generation of thinkers and cofounded Dialogue, a Mormon academic and literary journal acclaimed for the broad range of its thought.
A fascinating portrait of a Mormon intellectual and his times, Eugene England reveals a believing scholar who emerged from the lived experiences of his faith to engage with the changes roiling Mormonism in the twentieth century.
About the Author
---
Kristine L. Haglund is a writer, editor, and independent scholar, and the former editor of Dialogue: A Journal of Mormon Thought.
Praise For…
---
"Haglund's analysis truly shines when she places England in context with other thinkers. . . The most powerful parts of Haglund's work are when she demonstrates how England lived during a transition moment for Mormonism." --By Common Consent

"Haglund's brief, elegant study brings back the restless personality of the late Eugene England, one of Mormonism's most energetic thinkers and intellectuals, wrestling with the tensions between independent thought and loyal belief. This book illuminates an entire era in Mormon intellectual history."--Claudia L. Bushman, author of Contemporary Mormonism: Latter-day Saints in Modern America

"Eugene England was the most gifted Latter-day Saint essayist of the late twentieth century, influencing an entire generation of thinkers and strivers. In Kristine Haglund's deft handling, we also come to appreciate England as embodying the paradoxes and tensions of modern religion: liberal and conservative, faith and reason, individual and community, autonomy and authority. This book will enable a whole new generation to rediscover the wisdom and wrestle of one of twentieth-century Mormonism's most remarkable souls and intellects."--Patrick Q. Mason, Utah State University