A General Theory of Authority (Paperback)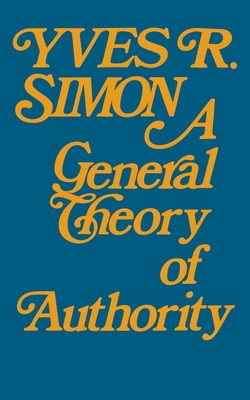 Description
---
A General Theory of Authority was first printed in 1962 and is a classic treatment of authority and its relation to justice, life, truth, and order. In recent years, authority has been seen as an enemy of freedom, autonomy, and development. In this book, the renowned philosopher Yves R. Simon, himself a passionate proponent of liberty, analyzes the idea of authority and definds it as an essential concomitant of liberty. Simon sees authority as the catalyst necessary to bring together the seemingly disparate demands of liberty on one hand and order on the other.
Simon's perceptive discussion of how authority differs from law enables him to highlight the effective and personal role that authority can play in the life of the individual and for the good of the community.
About the Author
---
Professor Yves R. Simon was a renowned philosopher and teacher at several American universities, including the University of Notre Dame and the University of Chicago. He published numerous books and articles, many of which remain as classic pieces of political and social philosophy. Professor Simon died in 1961.