Jews and Words (Posen Library of Jewish Culture and Civilization) (Paperback)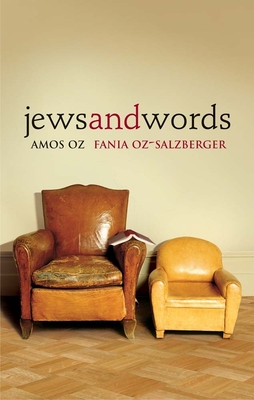 $15.00

Special Order - Subject to Availability
Staff Reviews
---
As a lover of the written word and a student of Religion, I could not resist the title of this book. I have often ruminated upon the main question in Jews and Words, namely, why are words so important to Jews? More than anything, Jews are a storied people. From the opening lines of the Torah, "In the beginning", storytelling has been at the core of Judaism. Jews and Words is an excellent exploration of this topic. It is interesting enough that those who have extensively explored these themes will still be engaged, and accessible enough that even if they've never picked up the Bible they will still find meaning in it (and learn something new as well!). This fascinating read must make it onto the shelf of anyone interested in Jewish history, language, or culture.
—
JESSIE'S STAFF PICKS
Description
---
A celebrated novelist and an acclaimed historian of ideas, father and daughter, unravel the chain of words at the core of Jewish life, history, and culture

Why are words so important to so many Jews? Novelist Amos Oz and historian Fania Oz-Salzberger roam the gamut of Jewish history to explain the integral relationship of Jews and words. Through a blend of storytelling and scholarship, conversation and argument, father and daughter tell the tales behind Judaism's most enduring names, adages, disputes, texts, and quips. These words, they argue, compose the chain connecting Abraham with the Jews of every subsequent generation.

Framing the discussion within such topics as continuity, women, timelessness, and individualism, Oz and Oz-Salzberger deftly engage Jewish personalities across the ages, from the unnamed, possibly female author of the Song of Songs through obscure Talmudists to contemporary writers. They suggest that Jewish continuity, even Jewish uniqueness, depends not on central places, monuments, heroic personalities, or rituals but rather on written words and an ongoing debate between the generations. Full of learning, lyricism, and humor, Jews and Words offers an extraordinary tour of the words at the heart of Jewish culture and extends a hand to the reader, any reader, to join the conversation.
About the Author
---
Amos Oz is the internationally renowned author of more than twenty works of fiction and numerous essays on politics, literature, and peace. He is also professor of literature at Ben-Gurion University in Be'er Sheva. Fania Oz-Salzberger is a writer and history professor in the Faculty of Law at the University of Haifa.
Praise For…
---
Praise for Amos Oz's A Tale of Love and Darkness:
"Both in his fiction and his essays, Oz has proven himself one of our essential writers, laying out for our observation, in ever-increasing breadth and profundity, the mad landscape of our time and his place—always enlarging the scope of his questions while avoiding the temptation of dogmatic answers."—Alberto Manguel, Washington Post Book World
"A charmingly funny book—not just humorous but sometimes downright hilarious. The essence of it is that the natural condition of the Jewish people—and the source of their resilience—is being in argument with the world, with one another and, to be sure, with God himself. But you cannot get the taste of this book, let alone its essence, without reading it."—Martin Peretz,
Wall Street Journal
"A thought-provoking essay on language, literature and the eternal question of Jewish identity. . . . 
Jews and Words
 is filled with fascinating anecdotes and details. . . . A stimulating meditation on what it means to be a Jew and what it means to be a reader."—
Wall Street Journal
"Playfully instructive. . . . Will appeal to lay readers interested in a nonreligious Judaism based on contemporary readings of traditional and more modern Jewish texts."—
Publishers Weekly
"Exhibiting eye-popping feats of literary scholarship and stunning swoops into the minds of writers, readers, and rabbis, the authors clearly relish the richness of their topic. . . . This is a book to read, think about, and discuss because, as the ending notes, 'every time we read a text, we author it in our own image.'"—
Booklist,
Starred Review
"Filled with chutzpah, wisdom, humor, and common sense. . . . The authors have added meaningfully and joyfully to the continuum they celebrate. Readers will come away from this entrancing meditation needing to add comments of their own."—
Jewish Book World
"Jews and Words [is] brimming with such unsentimental affection for these texts and the role they've played in the survival of the Jewish people that those with any interest in the subject are likely to find themselves captivated and inspired by the authors' undisguised enthusiasm. . . . A passionate, sophisticated argument for the central role of texts in Jewish survival."—
Shelf Awareness
"A provocative mixture of scholarship, sly observation and wry writing that often glistens."—
Kirkus Reviews
"Captivating, troubling and exhilarating — all three of these adjectives apply with equal force to Jews and Words, an important and invigorating contemplation of the shared experiences and values that have always defined the Jewish people."—Jonathan Kirsch,
Jewish Journal
"There are many ways to understand and use Jews and Words. It is a heart-stirring tribute to the enduring power of our religious writings, a spirited celebration of a certain kind of Jewish genius that has lasted just as long and a gloss on the Tanakh and the Talmud that allows us to approach the old texts from new points of entry. Above all, father and daughter, authentic and committed Zionists whose beliefs are the same as those of the founders of modern Israel, offer us a way of seeing ourselves not as the victims of history but the makers of history."—Jonathan Kirsch,
Jewish Journal
"[A] fascinating overview of Jewish intellectual traditions from a secular perspective. . . Readers with any background will find details and stories to engage with, argue with and think about."—Mona Moraru,
Pittsburgh Post-Gazette
"Distinguished both by the clarity of its authors' arguments and the intellectual panache they display on the page. It's a little book, perhaps, but also an uncommonly delightful and learned one."—
Los Angeles Review of Books
"These two high-powered Jewish intellectuals deploy their full inventory of literary, biblical and historic insights to their review of the vital role of words as a sustaining force in Jewish life. . . . This slim (232 pages), but insight-packed volume deserves a wide reading audience."—
St. Louis Jewish Light
"[The authors] are both gifted storytellers and razor-sharp analysts of the human condition. . . . This relatively short volume is an unalloyed joy to read, to consider, and to pass on."—Leonard J. Greenspoon,
ID: International Dialogue
"Jews and Words is a conversation between two people who love each other, informed by a wonderful sense of humor and a passionate yet measured analysis of language, people, and literature. Honesty shines through every paragraph of this terrific work."—Yehuda Bauer
Praise for Fania Oz-Salzberger's Israelis in Berlin:
"An exciting, deeply moving, masterly book. It combines a wealth of knowledge with great emotional power."—Zeruya Shalev
"Ingenious and thrilling,
Jews and Words
manages to cram more than 5,000 years of prayers, songs, stories, arguments, praises, curses and jokes into the suitcase of a thin, page-turning work of . . . what? History? Anthropology? Literary criticism? Theology? All of these and more. It's a wonderful book."—Jonathan Safran Foer
"Jews and Words is thrilling and entertaining, challenging clichés and stereotypes at every page. Its tone is half serious and half humorous, mixing a mastery of its subject with an informal touch. It promises to be very controversial and widely read."—Mario Vargas Llosa
"Absolument passionnant."—Bernard-Henri Lévy