The New Yale Book of Quotations (Hardcover)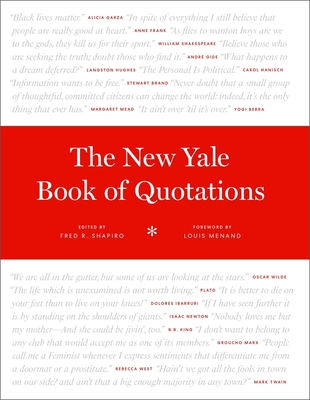 Description
---
A revised, enlarged, and updated edition of this authoritative and entertaining reference book—named the #2 essential home library reference book by the Wall Street Journal
 
"Shapiro does original research, earning [this] volume a place on the quotation shelf next to Bartlett's and Oxford's."—William Safire, New York Times Magazine (on the original edition)
 
"The most accurate, thorough, and up-to-date quotation book ever compiled."—Bryan A. Garner, Los Angeles Review of Books
 
Updated to include more than a thousand new quotations, this reader-friendly volume contains over twelve thousand famous quotations, arranged alphabetically by author and sourced from literature, history, popular culture, sports, digital culture, science, politics, law, the social sciences, and all other aspects of human activity.
 
Contemporaries added to this edition include Beyoncé, Sandra Cisneros, James Comey, Drake, Louise Glück, LeBron James, Brett Kavanaugh, Lady Gaga, Lin-Manuel Miranda, Barack Obama, John Oliver, Nancy Pelosi, Vladimir Putin, Bernie Sanders, Donald Trump, and David Foster Wallace. The volume also reflects path-breaking recent research resulting in the updating of quotations from the first edition with more accurate wording or attribution. It has also incorporated noncontemporary quotations that have become relevant to the present day. In addition, The New Yale Book of Quotations reveals the striking fact that women originated many familiar quotations, yet their roles have been forgotten and their verbal inventions have often been credited to prominent men instead.
 
This book's quotations, annotations, extensive cross-references, and large keyword index will satisfy both the reader who seeks specific information and the curious browser who appreciates an amble through entertaining pages.
About the Author
---
Fred R. Shapiro is associate director for collections and access at the Yale Law Library. A well-known authority on quotations and words, he is the foremost contributor to the Oxford English Dictionary.
Praise For…
---
"An updated edition of the classic reference book containing over 12,000 quotations from all aspects of human activity, with attributions and new entries from public figures including Beyoncé, Louise Glück, and James Comey."—New York Times Book Review

"This new volume busts myths about who said what."—Jonathon Green, The Telegraph

 

"Much has been said since The Yale Book of Quotations came out in 2006, and this updated version reflects that. It's not just the addition of over a thousand new quotes. . . . The New Yale Book of Quotations also meticulously updates sources of quotations, fixing common misattributions, . . . which usually results in women being given proper credit for pithy comments erroneously attributed to a man. . . . This volume should replace The Yale Book of Quotations, and is an essential ready-reference resource for researchers and browsers alike."—Susan Maguire, Booklist

"Because it capitalizes on Big Data and other technological advances, [The New Yale Book of Quotations] can claim an authoritativeness that is unsurpassed. Hundreds of famous misattributions have been corrected—and probably thousands of misquotations as well. The Yale Book can legitimately claim to be the most accurate, thorough, and up-to-date quotation book ever compiled."—Bryan A. Garner, Los Angeles Review of Books

"This excellent source is highly recommended for all libraries."—Choice

"A snappy, welcome addition to any trivia buff's collection."—David K. Israel, Mental Floss (on the original edition)