Spare the Birds!: George Bird Grinnell and the First Audubon Society (Hardcover)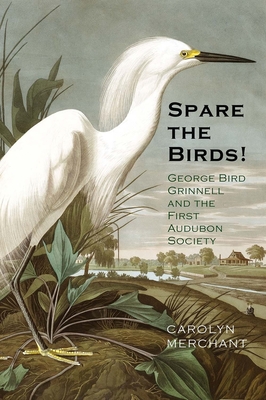 $49.00

Special Order - Subject to Availability
Description
---
An engaging history of the founding of one of the world's most popular environmental organizations, the Audubon Society

In 1887, a year after founding the Audubon Society, explorer and conservationist George Bird Grinnell launched Audubon Magazine. The magazine constituted one of the first efforts to preserve bird species decimated by the women's hat trade, hunting, and loss of habitat. Within two years, however, for practical reasons, Grinnell dissolved both the magazine and the society. Remarkably, Grinnell's mission was soon revived by women and men who believed in it, and the work continues today. In this, the only comprehensive history of the first Audubon Society (1886–1889), Carolyn Merchant presents the exceptional story of George Bird Grinnell and his writings and legacy. The book features Grinnell's biographies of ornithologists John James Audubon and Alexander Wilson and his editorials and descriptions of Audubon's bird paintings. This primary documentation combined with Carolyn Merchant's insightful analysis casts new light on Grinnell, the origins of the first Audubon Society, and the conservation of avifauna.
About the Author
---
Carolyn Merchant is professor of environmental history, philosophy, and ethics at the University of California, Berkeley. She is the author or editor of twelve books and has been a Guggenheim fellow, among other honors. She lives in Berkeley, CA.
Praise For…
---
"Carolyn Merchant's Spare the Birds! George Bird Grinnell and the First Audubon Society is environmental history at its finest. The amount of new information Merchant unearthed about America's progressive campaign to save avifauna from extinction is very impressive. Merchant makes the indisputable case that Grinnell should be forever honored as a top-tier conservation hero. Highly recommended!"—Douglas Brinkley, author of Rightful Heritage: Franklin D. Roosevelt and the Land of America
— Douglas Brinkley

"Merchant has provided a splendid guide to the lives of the men and women who began the work of saving America's wildlife legacy. Every bird lover should want to own it."—Donald Worster, author of A Passion for Nature: The Life of John Muir
— Donald Worster

"Carolyn Merchant restores women and gender roles to the standard 'boys' club' history of early American conservation—and tops it off by compiling Grinnell's wonderful writings on birds and on John James Audubon. A gift to birders and historians alike."—Jenny Price, author of Flight Maps: Adventures with Nature in Modern America
— Jenny Price

"George Bird Grinnell could not himself have chosen more wisely than Carolyn Merchant for his interlocutor. Her formidable control of his biography, conservation in an era when women also played significant roles, and not least the birds, suit her ideally to the task. This work is not merely a significant contribution to our understanding of the man and his times but imperative reading as we contemplate measures for the conservation of birds in the years to come."—Shepard Krech III, author of Spirits of the Air and The Ecological Indian
— Shepard Krech III

"Spare the Birds! tells a unique story that was only vaguely known before. A major contribution."—John F. Reiger, author of American Sportsmen and the Origins of Conservation and editor of The Passing of the Great West: Selected Papers of George Bird Grinnell
— John F. Reiger

"In Spare the Birds, Carolyn Merchant provides a compelling and exquisite portrait of George Bird Grinnell and the Audubon Society he founded."—Frederick Rowe Davis, author of Banned: A History of Pesticides and the Science of Toxicology
— Frederick Rowe Davis

"A valuable, unprecedented scholarly work chronicling a facet of the life of an underappreciated giant of conservation, ethnography, and natural history."—Choice
— Choice

"A smart mix of biography and anthology."—The Weekly Standard
— The Weekly Standard